New Jersey Akshardham: World's largest Hindu temple outside India is set for Oct 8 opening; see pics & videos
The article discusses the construction and upcoming inauguration of the BAPS Swaminarayan Akshardham temple in Robbinsville, New Jersey, highlighting its impressive features, intricate design, and the dedicated efforts of artisans and volunteers involved in its creation.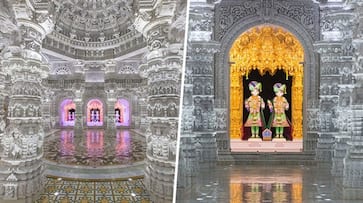 In Robbinsville, New Jersey, a towering symbol of faith and artistry graces the American landscape—the BAPS Swaminarayan Akshardham, the largest Hindu temple in the United States. This grand Mahamandir, dedicated to Bhagwan Swaminarayan, a revered 19th-century Hindu spiritual leader, serves as a testament to his teachings and legacy, inspired by his 5th spiritual successor, the renowned saint Pramukh Swami Maharaj.
The awe-inspiring journey to construct this Mahamandir commenced in 2011 and is now poised for a grand inauguration on October 8, 2023, in the presence of Mahant Swami Maharaj and esteemed dignitaries. The inauguration festivities will extend over a period of one week, with numerous members of the United States Congress, senators, representatives from the Biden Administration, and state governors scheduled to participate in this grand event. Public access will start from October 18.
This temple, constructed by BAPS Swaminarayan Sanstha, is the world's second-largest temple built outside of India, covering 183 acres and measuring 255 feet x 345 feet x 191 feet. It incorporates design elements from ancient Hindu scriptures and Indian culture, featuring 10,000 statues and statuettes, along with carvings depicting Indian musical instruments and dance forms.
This New Jersey Akshardham temple ranks among the largest globally, possibly second only to Cambodia's Angkor Wat. Angkor Wat, a 12th-century temple complex, sprawls over 500 acres and is a UNESCO World Heritage site.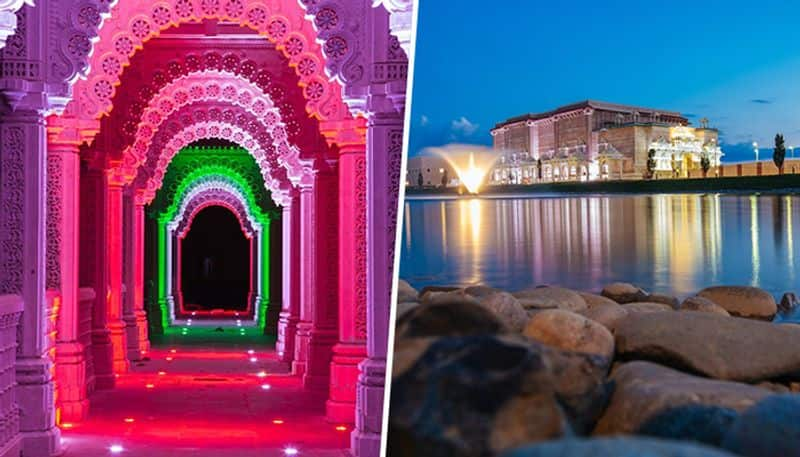 Creating a majestic Mandir like the BAPS Swaminarayan Akshardham is a multifaceted endeavour. The construction employed an array of stone types from various locations worldwide, including limestone from Bulgaria and Turkey, marble from Greece, Turkey, and Italy, granite from India and China, sandstone from India, and decorative stones from Europe, Asia, and Latin America.
According to the temple's official website, the process involved sourcing stone marble from quarries in Europe, shipping it to India via sea cargo, and then transporting it to Rajasthan. There, hundreds of skilled artisans meticulously hand-carved the stones, ensuring precision and detail in every piece. These stones were first assembled at workshops in India, where they were meticulously numbered by onsite engineers, disassembled, carefully packed, and shipped to the United States. The journey of each stone spanned an astonishing 21,500 miles, from Europe to the USA.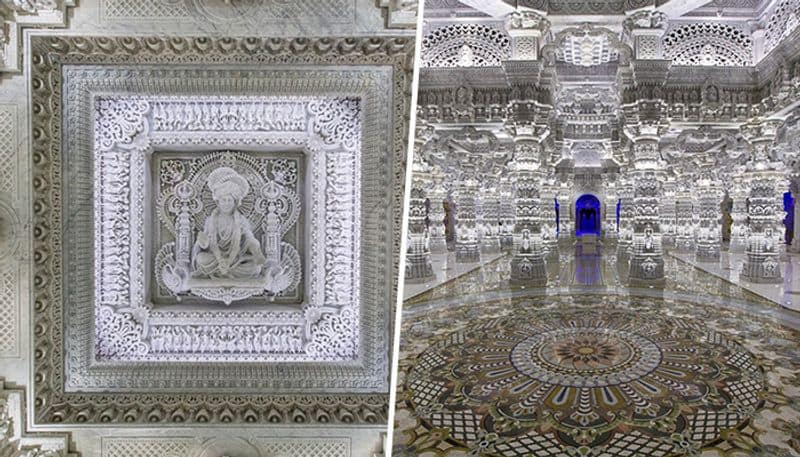 The temple's architectural marvel comprises a central shrine, 12 sub-shrines, nine shikhars (spire-like structures), and nine pyramidal shikhars. Notably, it houses the world's largest elliptical dome crafted in traditional stone architecture, designed to endure for a millennium. The temple is adorned with 40 small Fasnakar-style spires, 2 large and 8 small domes, 98 intricately carved pillars, 66 peacock-style arches, 144 sacred figures, 58 decorative ceiling designs, 34 ornate grills, 91 elephants bearing musical instruments and flowers, 44 Ganesh Murtis offering devotion to Bhagwan, and an astonishing 13,499 individual carved stone pieces.
Surrounding the Mandir is a protective Mandap, standing an impressive 55 feet tall and 135 feet wide. The Mayur Dwar, the main gate of the Mandap, is adorned with 236 intricately carved peacocks, along with other beautifully sculpted elements such as elephants, devotees, and paramhansas. This Mandap not only adds to the temple's grandeur but also ensures its preservation against the elements, safeguarding its timeless beauty for generations to come.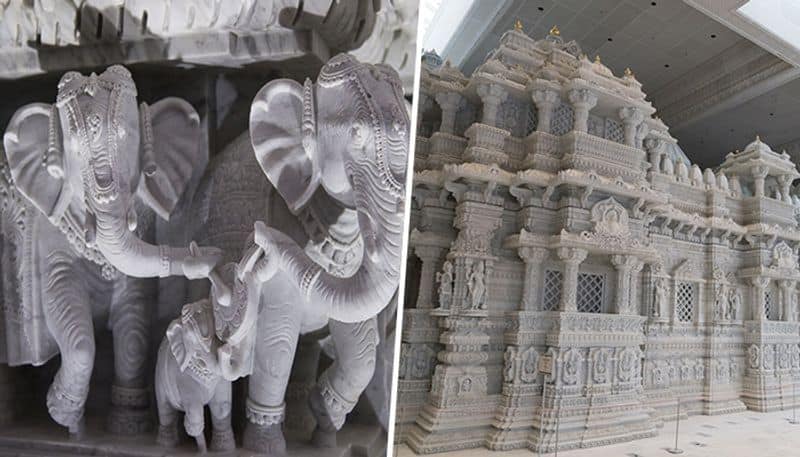 The temple also features the Brahma Kund, a traditional Indian stepwell, containing water sourced from over 300 bodies of water worldwide, including holy rivers from India and all 50 US states. Sustainability practices are integral to BAPS, including a solar panel farm, the use of fly ash concrete mix, and the planting of over two million trees globally in recent decades.
The temple's construction is a testament to the vision of Pramukh Swami Maharaj, the spiritual leader, who envisioned a place in the Western hemisphere where people from all backgrounds could learn universal values rooted in Hindu tradition.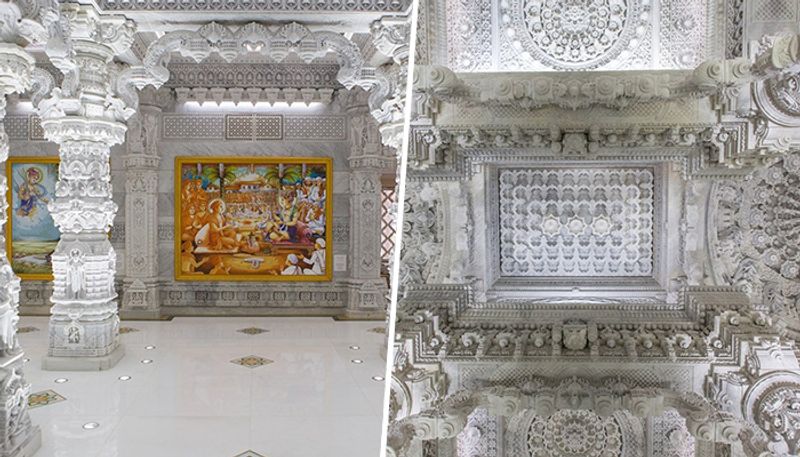 Over 12,500 volunteers from across the US, guided by artisan volunteers from India, dedicated more than a decade (from 2011 to 2023) to building this monumental structure. The website notes, "Volunteers of all ages have devoted their time and resources from the beginning: assisting in the construction work, cleaning up around the site, preparing food for all the artisans on a daily basis, and helping with other tasks. A total of 4.7 million man-hours were required by craftsmen and volunteers to complete the Mandir."
The BAPS Swaminarayan Akshardham in New Delhi, India, currently holds the Guinness World Record for being the world's largest comprehensive Hindu temple, situated on a sprawling 100-acre complex. The forthcoming inauguration of the Akshardham temple in the United States is poised to break records yet again. The BAPS Swaminarayan Sanstha has contributed to the construction of approximately 1,400 temples worldwide, spanning India, the UK, the US, Canada, Kenya, South Africa, and Australia.
Here's a look at some more pictures of the New Jersey Akshardham: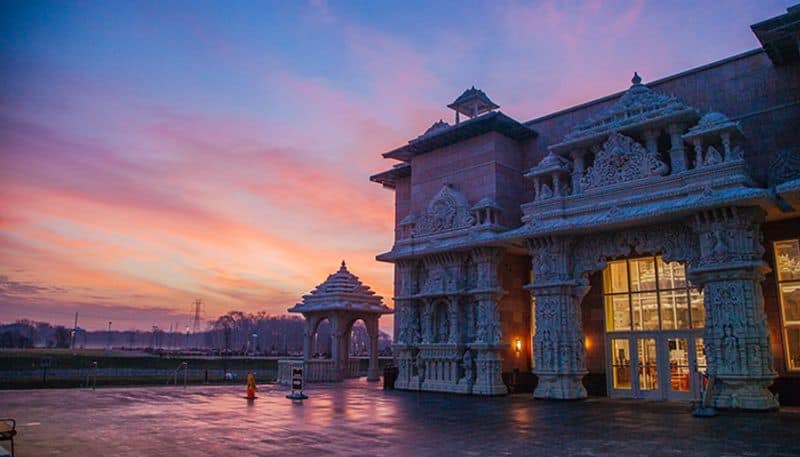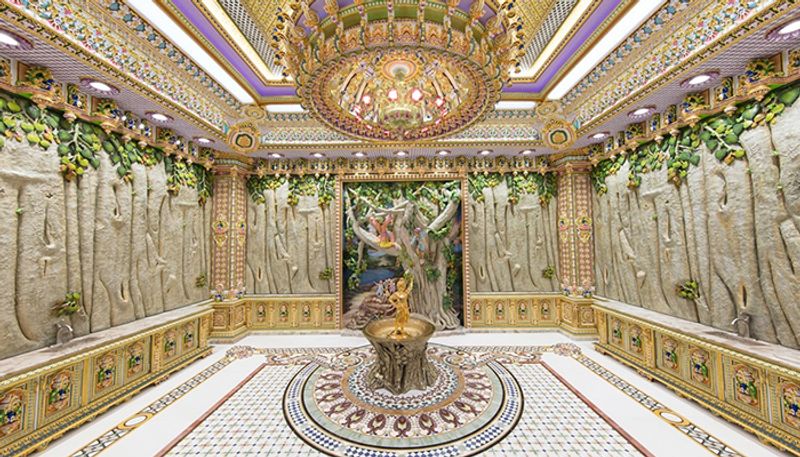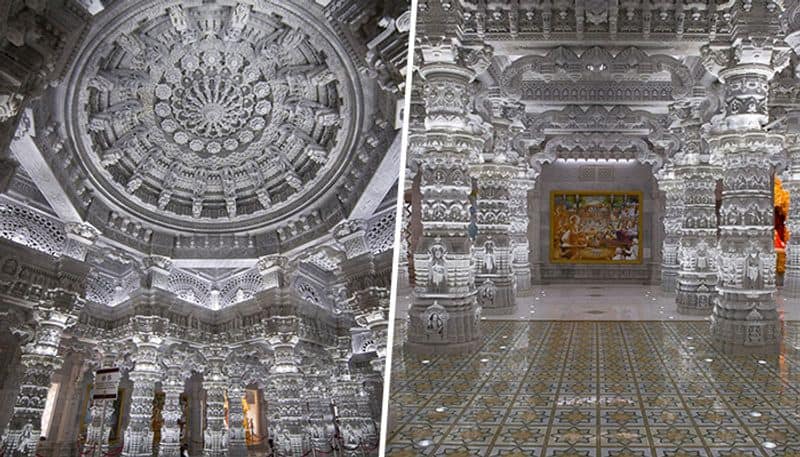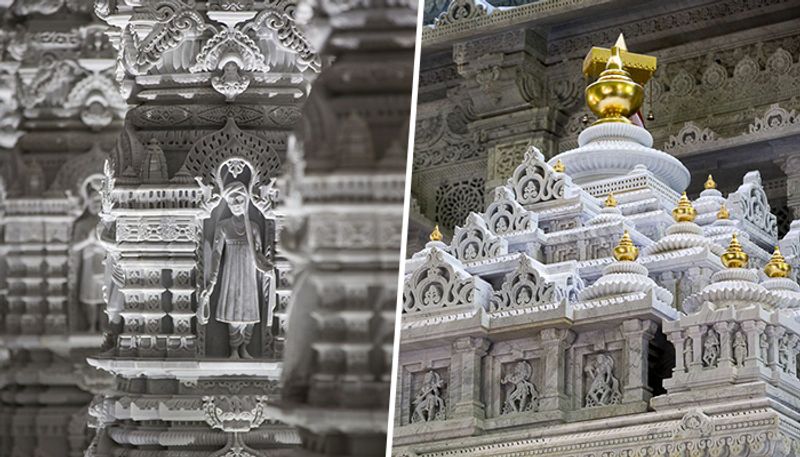 Last Updated Sep 25, 2023, 10:37 AM IST