Netanyahu offers 'real future' to Palestinians while Gaza death toll crosses 10000
The Gaza-Israel conflict has resulted in over 10,000 Palestinian deaths, including numerous children and women. Israeli Prime Minister Benjamin Netanyahu has shown willingness to consider temporary pauses for humanitarian aid and hostage releases but rejected a general ceasefire.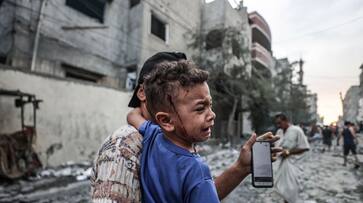 Gaza's health ministry has reported that a total of 10,022 Palestinians, including 4,104 children and 2,641 women, had lost their lives since the latest round of conflict between Palestinian militant outfit Hamas and Israel began on October 7. Israeli Prime Minister Benjamin Netanyahu has expressed willingness to consider "tactical pauses" in Gaza for humanitarian aid and hostage releases but rejected calls for a general ceasefire. 
One month later: How Gaza war has reshaped reality for Israelis, Palestinians as threat of WWIII looms
In an interview with ABC News, Netanyahu indicated that Israel may need to maintain security control over the Palestinian enclave for an "indefinite period" following the conflict. He also mentioned offering a "real future" to the people of Gaza after dismantling the Palestinian militant group, as Israeli forces had taken control of northern Gaza and conducted airstrikes.
Israeli forces are preparing for anticipated ground battles with Hamas in Gaza's largest city, marking a potentially more intense phase of the month-long war initiated on October 7.
Since the October 7 attack, which resulted in the death of 1,400 Israelis and the capture of over 240 hostages, Israel had carried out air and ground assaults on the Gaza Strip.
International organizations have again raised concerns about the overwhelmed hospitals, dwindling supplies of food and clean water, and insufficient aid deliveries. Several United Nations bodies, including UN High Commissioner for Human Rights Volker Turk, World Health Organization chief Tedros Adhanom Ghebreyesus, and UN aid chief Martin Griffiths, called for an immediate humanitarian ceasefire, emphasizing that "enough is enough."
The United States had been actively working to arrange temporary ceasefires for humanitarian aid delivery, expressing concerns that a full ceasefire could allow Hamas to regroup. U.S. President Joe Biden discussed these efforts and potential hostage releases with Netanyahu in a phone call, reaffirming support for Israel while emphasizing the need to protect civilians.
UN Secretary-General Antonio Guterres warned that Gaza was turning into a "graveyard for children" and urgently called for a ceasefire in the enclave.
Last Updated Nov 7, 2023, 9:14 AM IST