Couple tie their knot 17,500 feet above sea level.
They hike for 3 weeks to reach the base camp on the Nepal side where they tie the knot.
The wedding was solemnised in a short time span of 1 hours 30 minutes.
A wedding 17,500 feet above sea level is indeed not a usual wedding. But, it was  James Sissom, 35, and Ashley Schmieder, 32, dream to tie the knot at such a height, probably to give their "forever" relationship a new 'height'. But the adventure was not easy. After covering an arduous hiking trail for about 3 weeks to the base camp on the Nepal side, the couple had to endure harsh climate, dipping vitals and unprecedented snowfall. But every good thing comes with a price and this is the price they paid for tying a knot in such an adventurous manner. 
Speaking to Huffpost, the couple said, "After much deliberation, we decided a traditional wedding was not the right fit for us. As much as we would have loved to share our special day with our family and friends, we were both drawn to the idea of eloping during an incredible vacation."
Interestingly, despite the weather, the couple did not leave their wedding dresses behind. Sissom could be seen in a wedding jacket and Schmieder wore a beautiful wedding gown. And the entire proceeding was captured by adventure wedding photographer Charleton Churchill.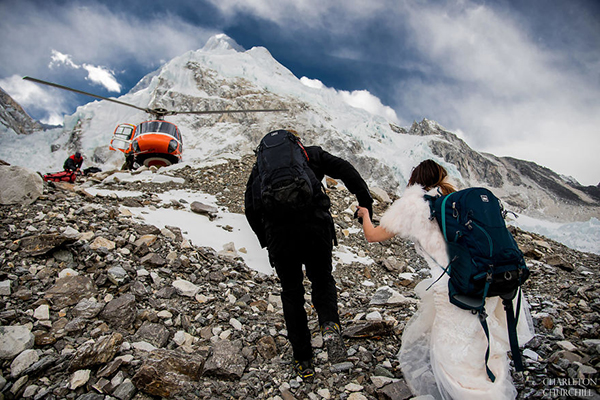 The narrator was Churchill who narrated the trek and the event in his blogspot. He said, "It started snowing hard a few days into the journey. According to our Sherpa guide, it dumped more snow on us than it had all winter. The temperatures ranged from -8 degrees to 10 degrees Fahrenheit from 14,000 ft. camp and above, so your hands would quickly freeze if left out of the gloves, like when I tried to film and take photos."
"James and Ashley married in the -5 degrees to 5 degrees Fahrenheit range, and in her wedding dress. We especially had to keep her warm, on top of keeping warm, downing soup, food, drinking hot liquids, and moving, all vital."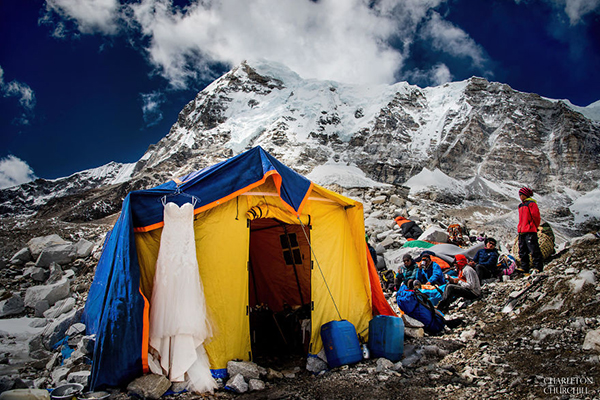 Photographer: Charleton Churchill
He further wrote in his post, "When we arrived to base camp, we were told we have 1hr and 30 minutes to eat, get married, pack up, and get on a helicopter. So, we ate, drank, and got married in an hour. James and Ashley exchanged vows at Mt. Everest Base camp right in front of the famous Khumbu ice-fall where people use ladders to maneuver over crevasses, and with the beautifully carved Nuptse Face in the backdrop. Their epic wedding was surrounded by all these famous mountains. It was beautiful, short, and we captured a few photos before packing and getting ready to leave."
The pictures captured by him are no less wondrous than the adventure itself.