Madagascar President urges all African nations to quit WHO, bats for COVID Organics
Andry Rajoelina has put his reputation and credibility on the line touting the medicine COVID Organics as a cure. He said it cures COVID-19 in 10 days. But he stated that because of the bad faith of Europe towards Africa, WHO is not acknowledging the coronavirus medicine.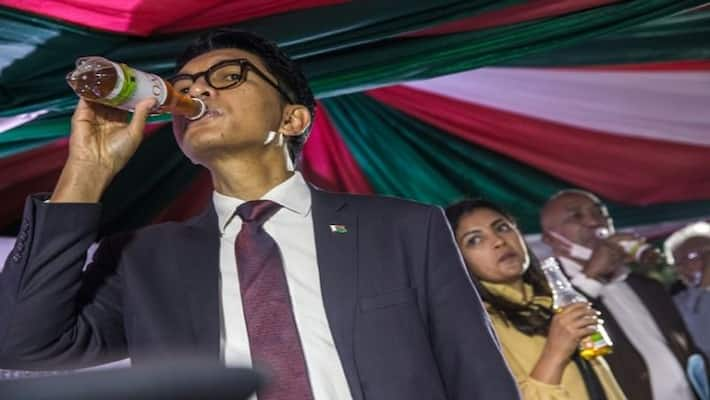 Madagascar: While Western and Europeans and Asians race to find vaccines for coronavirus, Africa can no longer wait for that scientific discovery that experts have said it would, most probably, be ready in a year or two. Some experts have argued that coronavirus would never disappear, but rather become endemic.
As the virus persistently sweeps across the world, the southern African island of Madagascar seems desirous with an initiative to tap into its local herbal science to produce COVID Organics to save human lives.
The President of Madagascar has urged citizens to protect themselves from the novel coronavirus by drinking COVID Organics (CVO), an organic herbal beverage he claimed could prevent or cure the virus.
"Let's drink this herbal tea to protect ourselves, to protect our family and our neighbors [...] and there will be no more deaths," Andry Rajoelina said in a speech on Sunday night, according to local daily L'express de Madagascar.
His remarks came a few hours after the announcement of the country's first coronavirus death -- a 57-year-old man who also had diabetes.
Meanwhile, according to a report on CeleSylv updates, Andry Rajoelina has called on all African nations to quit the World Health Organisation (WHO) because of the bad faith of Europe towards Africa.
The Malagasy President said, Europe created organisations with the desire for Africans to remain dependent on them. Africa has found a medicine against coronavirus but Europe thinks they have a monopoly of intelligence as such they are refusing to acknowledge it. It is against this backdrop that I invite all African Nations to quit the international organisations in order for us to build ours.
"No one will stop us from moving forward – not a country, not an organisation," Rajoelina said in response to WHO's concerns.
He said the proof of the tonic's efficacy was in the "healing" of "our patients". He called the medicine a "preventive and curative remedy".
"The patients who have healed have taken no other product than COVID Organics," the President said, adding that his country has a history of traditional medicine.
Last Updated May 19, 2020, 12:15 PM IST