Huge! Joe Biden says US and China are resuming military-to-military contact
US President Joe Biden has announced the resumption of military-to-military communications with China after a series of meetings with Chinese President Xi Jinping in Northern California. The leaders discussed key objectives, including counternarcotics cooperation and efforts to combat the fentanyl crisis.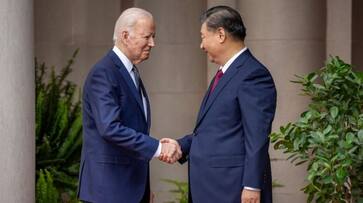 In a significant development, US President Joe Biden declared the resumption of military-to-military communications with China during a rare solo press conference in Northern California. Following extensive discussions with Chinese President Xi Jinping at the Filoli Historic House and Garden near San Francisco, Biden expressed mild optimism regarding the return of hostages held by Hamas.
Biden outlined key achievements, emphasizing progress in counternarcotics cooperation after years of being on hold. Additionally, a critical development involves the reinstatement of direct military-to-military contact between the United States and the People's Republic of China (PRC). The leaders convened on the sidelines of the Asia-Pacific Economic Cooperation in San Francisco, where officials and heads of state from leading economies gathered.
According to a senior administration official, the U.S. and China are initiating "policy-level discussions" on military matters, with Defense Secretary Lloyd Austin set to meet his Chinese counterpart once a new defence minister is appointed. Senior military commanders, including the commander of the US Pacific forces in Hawaii, will engage with their Chinese counterparts.
Furthermore, efforts to combat the fentanyl crisis were highlighted, with the US and China collaboratively working on a plan to curtail specific companies producing fentanyl precursors. The official revealed that China has already taken action against several identified companies following information provided by the US, signaling a joint commitment to addressing the issue.
Biden and Xi engaged in a substantial exchange on the topic of Taiwan, where Xi expressed a preference for peaceful reunification but did not rule out the potential use of force. Biden stressed the importance of maintaining peace and stability, urging China to respect Taiwan's electoral process. While Xi acknowledged the value of peace, he suggested a future move toward resolution.
Throughout the discussions, Biden consistently characterized the U.S.-China relationship as one of competition, emphasizing the need to prevent competition from escalating into conflict. He asserted the shared responsibility of both nations to manage competition responsibly and work together when aligned with mutual interests and global well-being.
Last Updated Nov 16, 2023, 8:28 AM IST