Joe Biden's 'instinct' says India-Middle East-Europe Economic Corridor a reason behind Hamas October 7 attack
US President Joe Biden has implied a connection between Hamas' October 7th attack on Israel and the announcement of the India-Middle East-Europe Economic Corridor. This ambitious project aims to create an extensive network of railways, roads, and ports connecting the Middle East, Europe, and India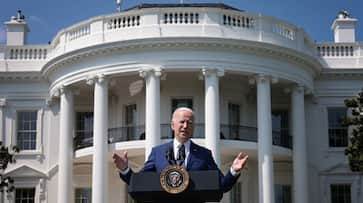 United States President Joe Biden has alluded to a possible link between the October 7th Hamas attack on Israel and a recent development in the region, the announcement of the India-Middle East-Europe Economic Corridor -- the ambitious initiative that seeks to establish a comprehensive network of railways, roads, and ports connecting the Middle East, Europe, and India.
While President Biden did not provide concrete evidence, he shared his instinctual belief that the timing of the attack by Hamas may have been influenced by the progress made towards regional integration, particularly concerning Israel and the broader region. He emphasized the importance of not abandoning the efforts made towards regional integration, underscoring the potential benefits that could be derived from such cooperation.
What is India-Middle East-Europe Economic Corridor?
The India-Middle East-Europe Economic Corridor, as showcased during the G20 Summit in New Delhi, involves a Memorandum of Understanding signed by the United States, the United Arab Emirates, Saudi Arabia, France, Germany, Italy, and the European Union. This memorandum sets the stage for the development of two distinct corridors within the economic corridor project. The East corridor aims to connect India to West Asia and the Middle East, while the Northern corridor seeks to link West Asia, the Middle East, and Europe.
The cornerstone of this ambitious project is a planned rail line, which, upon completion, will offer a reliable and cost-effective cross-border ship-to-rail transit network. This will complement the existing multi-modal transport routes, enhancing the efficient transfer of goods and services between Southeast Asia, facilitated by India, and the regions of West Asia, the Middle East, and Europe.
President Biden recently expressed his support for the India-Middle East-Europe Economic Corridor, recognizing the potential it holds for stimulating investment opportunities spanning two continents. He emphasized that this railway and port project is part of a broader effort to foster a more sustainable and integrated Middle East.
White House Clarification on Biden's Remark
In response to inquiries about President Biden's remarks, John Kirby, the NSC Coordinator for Strategic Communications, clarified that Biden's statement was grounded in the belief that the normalization process and an agreement being sought between Israel and Saudi Arabia for regional normalization could have motivated Hamas to conduct the attacks. 
Meanwhile, the conflict between Israel and Hamas had entered its 20th day, with Israeli Prime Minister Benjamin Netanyahu emphasizing the goal of protecting the nation and suggesting that a ground incursion to dismantle Hamas in Gaza was imminent, although specific details were not disclosed to the public for security reasons.
Last Updated Oct 27, 2023, 8:19 AM IST