Israeli forces eliminate head of Hamas' regional artillery array; share video of airstrike (WATCH)
Israel has killed Muhammad Katamash, the deputy head of the Hamas terrorist organisation's regional artillery array, responsible for fire and artillery management in the Central Camps Brigade.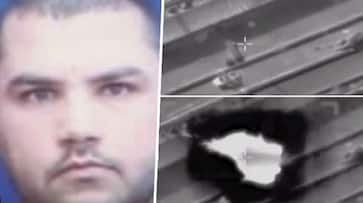 In a series of precision airstrikes amid the ongoing war with Hamas, the Israel Defence Forces (IDF) have taken down several key figures within the Palestinian terrorist organisation in the Gaza Strip. The latest target was Muhammad Katamash, the deputy head of Hamas's regional artillery array, responsible for fire and artillery management in the Central Camps Brigade.
As a significant figure in the Hamas leadership, Katamash played a crucial role in planning and executing the organisation's fire plans aimed at Israel. The IDF's strike on Katamash underscores Israel's commitment to neutralising high-value targets within Hamas, which it designates as a terrorist organisation, to safeguard its citizens and maintain security.
Also read: Inside Hamas' tunnels in Gaza: Viral videos reveal underground challenge for Israeli forces (WATCH)
The IDF's operations against Hamas have continued since the launch of 'Iron Swords' after the terrorist group launched an unprovoked attack in Israel on October 7, with a focus on disrupting their infrastructure and leadership. Among the targets were the head of a rocket firing squad and several other operatives involved in launching attacks against Israel.
In addition to targeting individuals, the IDF on Saturday also struck a weapons production site used by Hamas for the manufacturing of rockets and other weaponry. The destruction of such facilities is a crucial aspect of Israel's strategy to prevent the replenishment of Hamas's arsenal and reduce its capacity to threaten Israeli civilians.
Furthermore, a military headquarters used by the terrorist organization Hamas was also among the targets of the IDF's strikes. Disrupting these command and control centers is intended to disrupt Hamas's ability to coordinate attacks and undermine its operational capabilities.
Also read: Israel's counter-terrorism operation: 27 Hamas terrorists arrested, printing house sealed, weapons seized
The IDF's actions come in response to ongoing rocket attacks and aggression from Hamas militants in the Gaza Strip. Israel maintains that it is acting in self-defense and in protection of its citizens. These targeted airstrikes are part of Israel's broader efforts to dismantle the infrastructure and leadership of Hamas, which it has classified as a terrorist organisation, to ensure the safety and security of the region.
The situation in the Gaza Strip remains tense, with both sides engaged in ongoing hostilities. The international community continues to monitor the situation closely, calling for a de-escalation of tensions and a return to peaceful negotiations.
Also read: Hamas, Islamic Jihad terror cell in Jenin mosque was a 'ticking time bomb': Israel after West Bank airstrike
Last Updated Oct 22, 2023, 5:32 PM IST