Inside Hamas' tunnels in Gaza: Viral videos reveal underground challenge for Israeli forces (WATCH)
The article discusses the challenges and complexities the Israel Defence Forces face in a potential ground offensive in Gaza, particularly the intricate network of tunnels constructed by Hamas and the risks associated with their elimination.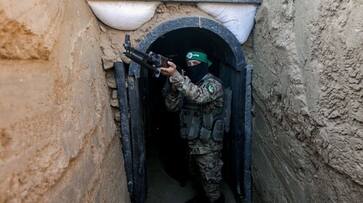 Anticipated ground operations by the Israel Defence Forces into Gaza in response to a deadly attack by Hamas present a major challenge due to the extensive tunnel network within the densely populated strip, home to over two million people. These tunnels, often referred to as the "city below the city," are sophisticated structures constructed by the militant group Hamas. They criss-cross the Palestinian enclave, serving as concealed passageways for moving weapons, while deep underground bunkers house Hamas's command centers. This network has been fortified over years, with claims of tunnels stretching for 500 kilometers and the potential of holding hostages from the recent attacks.
Also read: Israel's counter-terrorism operation: 27 Hamas terrorists arrested, printing house sealed, weapons seized
Here's a look at the extent of the tunnels under the Gaza Strip used by Hamas:
Hamas has suggested that some of the 200 hostages seized during the October 7 attacks, including Israeli soldiers, may be held underground. The Israeli government has reported that over 1,400 people were killed in these attacks.
The tunnels have been a primary target of Israeli airstrikes, but experts emphasize the difficulty of detecting them. Clearing these tunnels is a complex task, putting Israeli forces at risk of ambush and booby traps. Meanwhile, the Palestinian population residing above these tunnels faces great risks in an ongoing conflict that has already claimed thousands of lives and displaced a million people, according to Palestinian officials and the United Nations.
Also read: Hamas, Islamic Jihad terror cell in Jenin mosque was a 'ticking time bomb': Israel after West Bank airstrike
Throughout history, secret underground passages have been employed to evade authorities and enemies in various parts of the world. In Gaza, Hamas has built an extensive tunnel network, which has served not only for smuggling goods from Egypt but also as a means to launch offensives against Israel. This time, Hamas relies on concrete-reinforced tunnels beneath Gaza to engage with Israel's military as the government aims to dismantle Hamas.
A Rand report published in 2017, examining Israel's operations against Hamas in previous conflicts, revealed the difficulties in detecting and dismantling the tunnels. Despite Israel's awareness of these tunnels, the report concluded that the Israel Defence Forces (IDF) struggled with this task. In 2014, there were cases where Hamas employed up to 900 individuals to construct these tunnels, costing around $100,000 each and taking three months to complete. These tunnels were often integrated into buildings like houses, allowing for underground firing of weapons.
During the summer of 2014, Hamas used these tunnels to infiltrate Israel, resulting in the deaths of 12 soldiers. Israel discovered 32 tunnels during that time, with some reaching depths of 25 meters. However, after a ceasefire, concerns arose regarding the preparedness of Israel's military to confront the tunnel threat. The Rand report indicated that while Israel experimented with technologies like ground-penetrating radar and audio sensors, they weren't always effective, with intelligence or patrols frequently stumbling upon tunnels.
Since 2014, there have been reports of Israel experimenting with various technologies to improve tunnel detection. Elite units have received training for combat in the challenging underground environment. The US Congress allocated $40 million in military aid for anti-tunnel technologies in 2015. In the expected offensive, experts suggest that Israel will likely deploy drones and robots.
Also read: Israel-Hamas war: Former Saudi intelligence chief advocates India-like civil disobedience resolution (WATCH)
Hamas has had time to prepare and may have gained tunneling knowledge from groups like Hezbollah in Lebanon. Israel, on the other hand, has been testing technologies to track phones and identify signal drops, potentially indicating underground activity. Despite these efforts, the challenge remains significant, and questions persist about Israel's precise understanding of the tunnel network, especially following the October 7 attacks, which caught the military off guard.
Last Updated Oct 22, 2023, 5:22 PM IST