Hamas, Islamic Jihad terror cell in Jenin mosque was a 'ticking time bomb': Israel after West Bank airstrike
IDF Spokesman Rear Adm. Daniel Hagari said the terror cell that Israel targeted in the West Bank city of Jenin overnight was planning a "murderous terror attack inside Israel."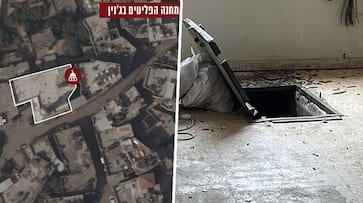 Israeli forces conducted an airstrike on a tunnel used by members of terror groups Hamas and Palestinian Islamic Jihad in the northern West Bank city of Jenin on Saturday night. The strike targeted an "underground terror route" located beneath the al-Ansari mosque. According to the Israel Defense Forces (IDF) and Shin Bet security agency, the terror operatives were planning an imminent attack within Israel, and they had used the mosque as a base for planning and executing attacks. The strike resulted in casualties, with the Palestinian Authority health ministry reporting two fatalities and several injuries.
Also read: Israel's counter-terrorism operation: 27 Hamas terrorists arrested, printing house sealed, weapons seized
The IDF Spokesman, Rear Adm. Daniel Hagari, described the targeted cell as a "ticking time bomb" and stressed that they were struck while hiding in a tunnel beneath the mosque. The military operation aimed to prevent what was characterized as a 'murderous terror attack inside Israel', he added.
"Hamas desecrates holy places in the hope that we will attack them. They use the symbols of Islam as a human shield," he said.
The IDF said the strike was carried out by "an aircraft," without specifying if it was a drone, combat helicopter, or fighter jet. Nevertheless, the use of certain munitions suggested that a fighter jet may have conducted the airstrike, which, if confirmed, would mark the first fighter jet strike in the West Bank in at least two decades.
The al-Ansari mosque had been previously raided during a significant Israeli operation in Jenin over the summer, revealing "terror infrastructure" and weapons. The IDF had discovered interconnected tunnel openings, explosives, weapons, and military equipment during that operation.
Also read: Israel-Hamas war: Former Saudi intelligence chief advocates India-like civil disobedience resolution (WATCH)
Tensions in the West Bank have risen following Hamas gunmen's incursion into southern Israel from Gaza on October 7, killing over 1,400 Israelis so far. In response, Israel initiated a campaign to eliminate the terror group, with over 4,300 casualties reported in Gaza due to Israeli airstrikes, according to unverified numbers from health authorities in Gaza. Hamas has urged Palestinians in the West Bank to rise up against Israel in support of its cause.
The West Bank has witnessed clashes between IDF forces and Palestinians, along with attempted terror attacks. The IDF reported that at least 90 West Bank Palestinians have been killed by Israeli forces and settlers since October 7. Since the Gaza conflict began, Israeli forces have arrested 727 wanted Palestinians in the West Bank, including more than 480 affiliated with Hamas.
In a related development, on Saturday, the IDF demolished the home of Hamas terrorist Maher Shalloun, who was charged with killing dual American-Israeli citizen Elan Ganeles on Route 90 in February. These measures are part of Israel's efforts to prevent attacks and maintain security in the West Bank amid concerns of a multi-front war.
Also read: India sends 6.5 tonnes of medical aid, 32 tonnes of disaster relief material to Palestine (WATCH)
Last Updated Oct 22, 2023, 1:57 PM IST