Israeli boy spends his 9th birthday in Hamas captivity; celebration invite sent earlier goes viral (WATCH)
The article tells the heart-wrenching story of Ohad, an 8-year-old Israeli boy held captive by Hamas in Gaza, and the emotional impact of his 9th birthday spent in captivity.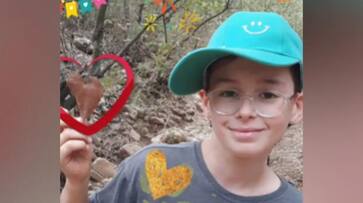 An 8-year-old Israeli boy named Ohad, who is believed to be among the 200 Israeli hostages being held by Hamas in Gaza, had to spend his 9th birthday in captivity. Before his 9th birthday, he had sent out an invitation to his friends to celebrate with him, which is a poignant image of his circumstances. Recently, a poignant image of a heart-wrenching invitation emerged on Instagram, featuring Ohad. In the picture, Ohad is seen holding a heart-shaped leaf, with the invitation clearly visible. The invitation reads, "Come celebrate my 9th birthday with me on Saturday, October 21, 2023." It is a painful reminder of the circumstances in which Ohad had to mark this significant milestone.
Also read: Peace activist among 2 Israeli hostages released by Hamas (WATCH)
The Instagram post shared by StandWithUs revealed the tragic story. "This is the invitation he sent to his friends to celebrate with him over the weekend. Instead of being surrounded by family and friends, he will 'celebrate' in captivity, in the hands of terrorists. On October 7, 2023, Ohad, along with his mother and grandparents, were ripped from their home, kidnapped by Hamas, and taken to Gaza. Ohad, along with hundreds of civilians, is being held hostage by Hamas," read the caption of the post.
The post described Ohad as a bright young boy and an only child. He has talents, such as being a skilled chess player and Rubik's Cube enthusiast, and he enjoys playing soccer and tennis. The post appealed for the public's support to bring him home.
In response to the image and the situation, many people expressed their sympathy and hopes for Ohad's safe return. This includes prayers and heartfelt wishes for the release and safety of Ohad and all the other hostages. "Oh little Ohad, just a child. Please let him be released and safe with his family and the remainder of the Israelis," wrote one user, while another added, "Praying for the safe return of Ohad and all of the hostages."
According to reports from the Times Of Israel, Ohad, his mother Keren, and his grandparents were kidnapped by Hamas operatives and their cell phones were detected in Gaza.
Also read: Israel-Hamas War Exclusive: 'Israelis were slaughtered... this is a crime against humanity'
Ohad's father, Avi Zichri, shared his worries and fears for his son, considering his son's sensitivity and the trauma he might be experiencing. "I keep imagining what he is going through. He's a sensitive boy. Did he see dead bodies? He wears glasses. Did they take them from him? Can he see anything? I keep thinking of every scenario, hoping for the least catastrophic. I just hope that he is safe and with his mother," he said.
Notably, Ohad is the only child of Zichri and his partner, Keren Munder, who is a 54-year-old special education teacher and volleyball coach for children with disabilities.
It is not just Ohad but many children from both sides of the conflict who are enduring the devastating consequences of this war. Heartwrenching images of children facing the aftermath of airstrikes and attacks have emerged, reflecting the distressing reality on the ground.
Last Updated Oct 24, 2023, 12:50 PM IST