Israel-Palestine war: Hezbollah's Nasrallah meets Hamas deputy leader and Islamic Jihad chief in Beirut
The meeting occurred in the context of Hezbollah's assertions of active involvement in the ongoing conflict, with the group's deputy leader warning of severe consequences for Israel's actions. Hamas officials have suggested that Hezbollah may join the fighting in the event of an Israeli ground offensive in Gaza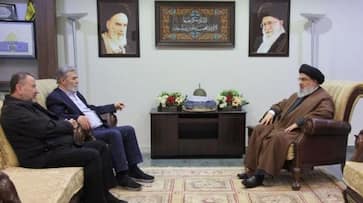 Hezbollah chief Hassan Nasrallah hosted Hamas Deputy Chief Saleh al-Arouri and Palestinian Islamic Jihad head Ziyad al-Nakhalah in Beirut, Lebanon. This meeting took place amidst reports of Israel preparing for a ground offensive in Gaza.
The meeting occurred against the backdrop of statements by Hezbollah officials asserting their active involvement in the ongoing conflict. Hezbollah's deputy leader, Sheikh Naim Kassem, has pledged that Israel will face severe consequences if it launches a ground offensive in the Gaza Strip.
Israel has been conducting airstrikes on both Hamas in Gaza and Hezbollah in southern Lebanon in response to rocket attacks by the latter. Kassem emphasized, "We are trying to weaken the Israeli enemy and make it clear that we are prepared." Hamas officials have indicated that should Israel initiate a ground offensive in Gaza, Hezbollah would join the conflict.
Israel's military conducted airstrikes on Syrian army infrastructure and mortar launchers in response to rockets fired from Syria, which is allied with Iran. The Israeli military did not specify whether it believed Syria's army was responsible for launching the rockets that triggered air raid sirens in the Israeli-occupied Golan Heights.
Syrian State News Agency (SANA) reported that the Israeli attack, described as an "aerial aggression," resulted in the deaths of 8 soldiers and the injury of 7 more near the city of Deraa in southwestern Syria.
The United States has advised Israel to postpone a planned ground assault as part of efforts to secure the release of over 200 captives still held by Hamas in Gaza. However, when questioned about urging Israel to delay its ground invasion, U.S. President Joe Biden stated, "The Israelis are making their own decisions."
The Gaza Health Ministry reported that 704 Palestinians, including 305 children, were killed in a single day, a figure confirmed by the UN Office for the Coordination of Humanitarian Affairs. Since October 7, Israeli bombardments have resulted in the deaths of at least 5,791 Palestinians in the Gaza Strip, including 2,360 children.
Last Updated Oct 25, 2023, 12:53 PM IST