Israel-Hamas war: US preparing for possible mass evacuation if situation escalates, says report
The US administration is preparing to carry out a possible mass evacuation, bring out several thousand American citizens from the Middle East, if the ongoing conflict between Israel-Hamas continues to escalate.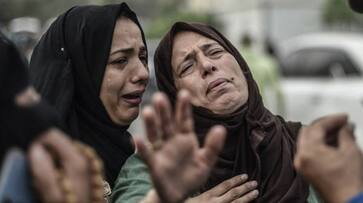 The Joe Biden administration in the United States is preparing for the possibility of carrying out a mass evacuation of hundreds of thousands of American citizens from the Middle East if the ongoing conflict in Gaza isn't contained, the Washington Post reported. This comes as US-supplied weaponry and military advice help Israeli troops get ready for a ground invasion against Hamas militants, who carried out the horrendous cross-border attack that claimed over 1400 lives on October 7.
The US administration, despite its public support for Israel, is deeply alarmed by the prospect of escalation and in recent days, according to three people familiar with the discussions, it has turned its attention in part to the difficult logistics of having to abruptly relocate a large number of people.
Speaking on the condition of anonymity, the officials said stated that Americans residing in neighbouring Lebanon and Israel are a particular source of concern. However, they emphasised that such an evacuation is only a last resort and that other possibilities are thought to be more likely.
Estimates from the State Department place the number of US citizens in Israel at around 6,00,000, and the number in Lebanon at approximately 86,000 during the time of the Hamas attack.
The main source of concern in Lebanon is the terrorist organisation Hezbollah, which together with its supporters presently has the majority of legislative seats. 1992 saw its entry into parliament. It has long received Iranian training and armaments, raising fears that Iran may strike Israel from the north and force Israeli forces to fight on two fronts. According to the Washington Post, there have already been conflicts along their common border.
Meanwhile, Palestinian health officials report that since the October 7 onslaught, Israeli bombings have killed over 5,000 Palestinians in Gaza, the majority of them civilians and children.
Due to "increased tensions in various locations around the world, the potential for terrorist attacks, [and] demonstrations or violent actions against US citizens and interests," the State Department issued an advisory last week advising all US citizens worldwide "to exercise increased caution," as the Washington Post reported.
Last Updated Oct 25, 2023, 9:07 AM IST