'Bring my baby back home': Mother of French-Israel's woman in Hamas hostage video appeals (WATCH)
French-Israeli woman Mia Schem's mother has appealed for the release of her daughter, held hostage by Hamas, condemning the act as a crime against humanity.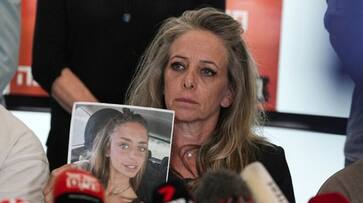 The mother of a French-Israeli woman, who is being held hostage by Hamas, has made a heartfelt appeal for her release, condemning her detention and that of approximately 200 hostages as "a crime against humanity." Mia Schem, a 21-year-old woman, was taken hostage during a series of attacks that led to a devastating war in Gaza. A video of Mia Schem, captured by Hamas' military wing, was released after more than a week of her disappearance.
Keren Schem, Mia's mother, spoke to the media at a press conference in Jerusalem, expressing her deep distress. She revealed the agonizing uncertainty she faced regarding her daughter's well-being until recently. Mia had been attending the Supernova music festival on the day of the attack when she was taken hostage. Keren Schem appealed to the global community, urging them to help bring her daughter back home. She emphasized that Mia had merely gone to a festival party to have fun and was now trapped in Gaza.
"I didn't know if she's dead or alive until yesterday. All I knew is that she might be kidnapped. I'm begging the world to bring my baby back home. She only went to a party, to a festival party to have some fun. Now she's in Gaza," her mother Keren Schem said.
"This is a crime against humanity. We should all gather and stop this terror and bring everybody back home," she added.
In the video, which lasted for one minute, Mia Schem appeared visibly fatigued as she gazed into the camera. Her arm was shown wrapped in a sling, indicating that she had suffered injuries. The footage depicted her receiving medical care for her wounded arm, and she pleaded for her release, confirming that she was being held in Gaza.
French President Emmanuel Macron swiftly responded to the video, describing it as "an odious act." The Elysee Palace announced that President Macron, who was on an official visit to Albania, demanded Mia Schem's unconditional release. He expressed his outrage at the act of taking innocent people hostage and putting them on display in such a deplorable manner. France stated that it was working in collaboration with its partners to secure the release of French hostages held by Hamas.
The Israeli Defense Forces (IDF) issued a statement, denouncing Hamas as a "murderous terrorist organization" and confirming that they were in constant communication with Mia Schem's family. The IDF emphasized that it was employing all available intelligence and operational measures to secure the safe return of the hostages.
Hamas' armed wing had earlier indicated that non-Israeli hostages, including Mia Schem, were considered "guests" who would be released "when circumstances allow." This statement was reported by the news agency Reuters, shedding some light on the uncertain fate of the hostages.
Last Updated Oct 18, 2023, 12:21 PM IST