Israel's forensic nightmare: Identifying victims of Hamas attacks amid unprecedented brutality (WATCH)
The article details the grim and heart-wrenching work of experts at Israel's National Center of Forensic Medicine as they strive to identify victims of devastating Hamas attacks, in the wake of a traumatic conflict and amid scenes of unprecedented brutality.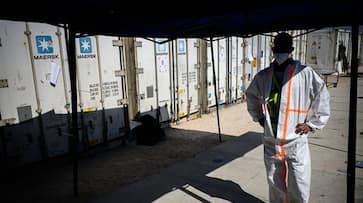 In Israel's National Center of Forensic Medicine, a harrowing atmosphere prevails as experts grapple with the daunting task of identifying the remains of hundreds of people who fell victim to Hamas attacks. The scene is unsettling, with the overpowering stench of death. Most of the bodies are in a state of disrepair, bearing the hallmarks of bullets, mutilation, or charring that renders them unrecognizable.
Also read: Israel-Palestine War: 'It takes just 15 seconds for a Hamas missile to reach Sderot'
Medical experts in pale green scrubs meticulously examine the remains, utilizing a range of methods, including DNA samples, fingerprints, and dental records to establish the identities of the victims. In some cases, they endeavor to piece together severed body parts, akin to macabre puzzles. Chen Kugel, the Center's Director, expressed their determination to confront this horror head-on in the face of accusations of falsehood. The emotional toll of their work is evident as Kugel is reduced to tears.
Please note: Graphic content in videos below. Viewer discretion is advised.
The context of this grim scene is the Hamas attack that claimed the lives of more than 1,400 people. This devastating event has traumatized and incited outrage in Israel, igniting a new war. Meanwhile, Hamas has celebrated the attack while denying allegations of abuse and torture.
In retaliation, Israel has launched a relentless bombing campaign that has left vast sections of the Gaza Strip in ruins and claimed at least 2,700 lives. The enclave has been besieged in anticipation of an impending ground invasion.
Within the forensics center in Tel Aviv, bodies are laid out on trolley stretchers, encased in thick black plastic bags, each labeled with a number. Tragically, some of these are infants. Most of the volunteers handling these remains are male Orthodox Jews, guided by their faith's principle that a body must be buried whole.
Also read: Hamas releases hostage video: Israeli woman abducted being nursed; IDF dubs it fake humane portrayal (WATCH)
The extent of the attack on towns, kibbutzim, and even a music festival has left Israelis grappling for words. They've dubbed it "Israel's 9/11" and compared its brutality to that of the Islamic State group.
Kugel draws attention to a particularly distressing sight, a tangle of bones and shreds of flesh, held together by a melted electrical cable.  "On the scanner," he explained to AFP, "we clearly see two spinal columns. That of a man or a woman, and that of a child.  The posture of the two bodies shows that the adult tried to protect the child. They were tied up then burned alive."
As Kugel speaks, more bodies continue to arrive, with vehicles waiting outside.
Nurit Boublil, Head of the Genetic Identification Unit, shares that they have managed to identify more than 500 bodies out of the hundreds brought to the center since October 7. The complexity is compounded by the fact that some victims were tortured and tied together, resulting in multiple bodies sometimes found in a single bag.
Also read: 'We have atom bombs...' Pakistan lawmaker's threat to erase Israel from world map goes viral (WATCH)
"Everything is made more difficult by the fact that often those who were tortured were tied together," Boublil told AFP. "It is therefore possible that in a single bag there are two bodies or even three."
"I've been doing this job for 31 years," Kugel reflects, "I've never seen such barbarity, such cruelty, such relentlessness. It's just atrocious."
The institute operates with a dedicated team, comprising seven forensic doctors, an anthropologist, a radiologist, and eight geneticists, with the assistance of around 30 volunteers. Some victims show signs of hand-to-hand struggles, with pierced hands, indicating a desperate fight for survival. The full scale of the tragedy, including the number of infants and elderly victims, is yet to be determined.
Similar forensic work is taking place at four other sites in Israel. One of them is the Shura military base near Ramla, where refrigerated containers hold up to 50 bodies each.
Rabbi Israel Weiss, a former chief military rabbi, now reactivated to assist in this grueling work, reflects on the unbearable sight and odor that fills the containers, emphasizing that the most poignant feeling is the pain and loss of the victims.
"I open the door to the cooling containers, I see the bodies, I smell the odour," said the rabbi. "I let it fill my lungs and my heart, but what I feel is their pain and the loss."
A multidisciplinary team, including doctors, dentists, forensic experts, and volunteers, work tirelessly as bodies continue to arrive. Psychologists and social workers provide support to the staff at the end of each grueling day.
Also read: Gruesome discovery: Israeli forensic team unearths atrocities of unprecedented horror in kibbutz Be'er
Rabbi Weiss and his team have noticed signs of torture and rape on many victims. "Never in my life have I seen the horrors that lie behind us today," he said. "I have seen babies, women and men beheaded. I have seen a pregnant woman with her belly torn open and the baby cut out. A lot of the women who were brought here were raped."
Senior Staff Sergeant Avigayil emphasized that nothing could have prepared them for this grim task, and Captain Maayan, a dentist and reservist involved in the identification process, breaks down in tears as she recounts the distressing nature of their work. "We see horrific sights," she told AFP, describing how, in their minds, "we hear the screams and the cries of the babies losing their parents".
Last Updated Oct 17, 2023, 3:15 PM IST