Israel doesn't seek to occupy or govern Gaza, says Netanyahu
Israeli Prime Minister Benjamin Netanyahu said that his country does not seek to conquer, occupy or govern Gaza after its war against Hamas. But he said a "credible force" would be needed to enter the Palestinian enclave if necessary to prevent the emergence of militant threats.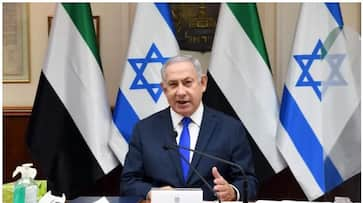 Israeli Prime Minister Benjamin Netanyahu said Israel will not "seek to occupy Gaza" after the end of the current conflict between Israel and the Palestinian militant group Hamas. In an interview that aired on Fox News on Thursday, Netanyahu stated, "We don't seek to conquer Gaza, we don't seek to occupy Gaza, and we don't seek to govern Gaza."
Netanyahu went on, "We have to make sure that this doesn't happen again in the near future, but we'll have to find a government, a civilian government that will be there." 
Netanyahu's new comments conflict with comments he made at the beginning of the week in which he said Israel will take "overall security responsibility" in Gaza after the war.
Earlier, in an interview, Netanyahu stated, "I think Israel will, for an indefinite period of time, have the overall security responsibility, because we've seen what happens when we don't have it." "What we have when we don't have that security responsibility is an unimaginable explosion of terror from Hamas."
Last month, President Biden referred to the possibility of an Israeli reoccupation of Gaza as a "big mistake." Additionally, Israel has lately received advice from the White House not to reoccupy the area. 
Late last month, despite warnings that the operation may exacerbate the already grave humanitarian situation in the region, Israeli soldiers began a ground assault into Gaza. According to the Gaza Health Ministry, which is controlled by Hamas, over 10,000 Palestinians have perished since the conflict began at the beginning of last month.
Israel has waged a bombing campaign to destroy the enclave's Hamas rulers since Oct 7. That is when Hamas gunmen attacked southern Israel and killed some 1,400 people.  The Israeli retaliatory action in Gaza has killed more than 10,500 people. 
Israel's bombardment of Gaza has created a humanitarian catastrophe where basic supplies have run out and wounded people are overwhelming a fragile medical system.
Last Updated Nov 10, 2023, 11:03 AM IST