Is Kim Jong-un meeting Putin? North Korean leader's 'train departs for Russia'; sparks diplomatic intrigue
The article discusses North Korean leader Kim Jong-un's reported departure to Russia for a meeting with President Vladimir Putin, potentially marking his first foreign trip in over four years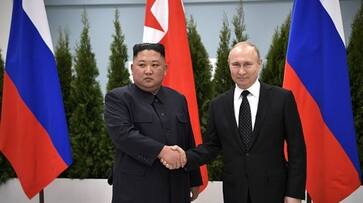 North Korean leader Kim Jong-un's personal train has reportedly set off for Russia, where he is expected to meet with President Vladimir Putin, according to South Korean media reports on Monday. A South Korean official informed the newspaper Chosun Ilbo that Kim Jong-un's train has been slowly moving towards the northeastern border area since Sunday afternoon.
"We understand that the train carrying Kim Jong-un has been slowly moving toward the north-eastern border area since the afternoon of the 10th [Sunday]," he said.
The much-anticipated meeting between these two autocratic leaders could potentially occur as early as Tuesday, as reported by the newspaper.
However, the Kremlin has not officially confirmed the meeting and has stated that it has "nothing to say" on the matter. Nevertheless, President Putin is scheduled to speak at an economic forum in Vladivostok, Russia's Pacific port city, which is approximately 6,500 kilometers east of Moscow. This location is believed to be the most likely venue for the meeting.
On the other hand, the Russian news agency Interfax has reported that Kim Jong-un's arrival in Russia's far east is expected imminently, with a local official stating that preparations for his visit have been underway for some time.
If this visit materializes, it would be Kim Jong-un's first foreign trip in over four years, highlighting North Korea's increasing isolation from the rest of the world.
This potential meeting would mark President Putin's fifth encounter with a North Korean leader, including Kim Jong-il, Kim's father. Additionally, President Putin is the sole Russian or Soviet leader to have visited North Korea.
Russia's close ties with Pyongyang could prove valuable, particularly as Russia seeks to replenish its resources, which have been depleted due to 18 months of conflict in Ukraine. Pyongyang is believed to possess significant stockpiles of Soviet-era artillery, rockets, and small arms ammunition that are compatible with Russian weapon systems.
Last Updated Sep 11, 2023, 4:49 PM IST