Iraqi protesters suffer life-threatening injuries in anti-government protests
Right groups have condemned the government for allowing excessive use of force against anti-government protesters in Iraq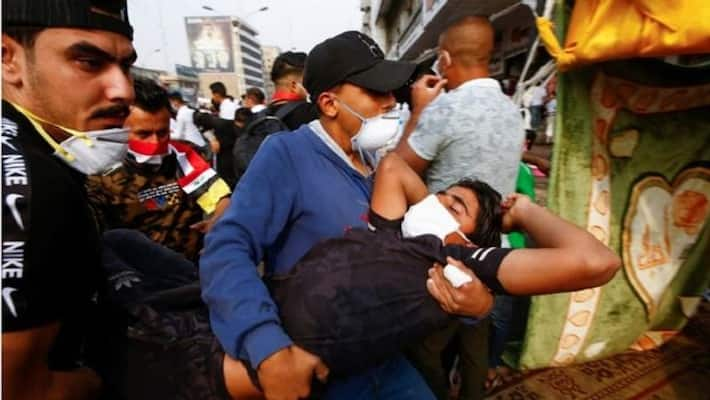 Baghdad (Iraq): Protests have gripped entire Iraq for over two months now and nearly 3,000 protesters are battling for their lives while over 400 were killed.
According to reports, one of the protesters Hamza was running for his life the day he was shot in the back by Iraqi security forces while taking part in the country's anti-government protests. One afternoon after protests started on October 25, he took to the streets of Baghdad with thousands of others, to demand the overhaul of the country's political system.
Years of public discontent reared its head in October when demonstrations demanding an end to government corruption, foreign interference in Iraqi affairs, unemployment and a lack of basic facilities sparked Iraq's largest protests in years.
It began as peaceful demonstrations on October 1 but escalated with the killing of more than 430 people and the wounding of 15,000 including Hamza.
Instead, Hamza crumpled to the floor in agony before being carried to safety by fellow protesters, with four bullets in his upper body, a fractured disk and a numb left leg he might never regain the use of.
The young student is just one of an estimated 3,000 protesters who have suffered life-altering injuries that have led to paralysis or amputation, according to a local NGO.
According to a report on Al Jazeera, Ali al-Bayati of the Iraqi High Commission for Human Rights (IHCHR) said Both protesters and security forces have suffered this fate.
According to local media reports, Parliament's Human Rights Committee had said that the use of excessive force by security forces which included live ammunition, military-grade tear gas canisters and rubber bullets has caused one-sided or total paralysis in a large number of demonstrators.
Rights groups in the country have condemned the government for allowing the security forces to use lethal force against protesters.
Prime Minister Adel Abdul Mahdi last week announced his resignation following an intense day of bloodshed in which 50 people were killed and hundreds of others wounded in a crackdown by security forces in southern Iraq.
Last Updated Dec 4, 2019, 5:59 PM IST