Iraq: Unidentified gunmen kill protesters in Baghdad amid escalating tensions
More than 130 were also wounded as armed men opened fire on demonstrators camped out near Tahrir Square.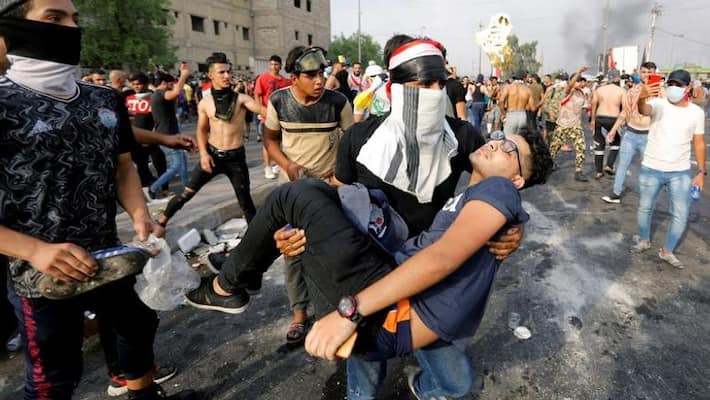 Baghdad, Iraq: With tensions escalating, Iraqi officials released a statement which raised the death toll to 25 on Sunday after attacks by unidentified gunmen who targeted anti-government demonstrators near the main protest camp in Baghdad.
More than 130 others were also wounded by gunfire and stabbings near Tahrir Square on Friday night, the main protest camp in the Iraqi capital.
It was the most violent outbreak for weeks and came a week after parliament accepted prime minister Adel Abdul Mahdi's resignation following two months of huge protests demanding his departure and the overhaul of the country's political system.
Iraq's parliament will hold an emergency session on Sunday to discuss the bloodshed.
Gunmen on pick-up trucks late on Friday attacked a large building near the al-Sinak bridge where anti-government protesters had been camped out for weeks.
According to our sources, this violence began late Friday night around Khilani Square that's just north of Tahrir Square, said a report on Al Jazeera.
According local channels, the attackers forced the protesters out of the building and live rounds could be heard after the altercation. State television said the building had been torched "by unidentified men".
The attacks claimed the lives of 22 protesters and three policemen, officials said.
Some protesters accused the government of colluding with the masked gunmen, pointing to a power outage that happened around the same time as the attacks.
But a senior electricity ministry official, who requested anonymity in line with regulations, denied the allegation. The official said it would have been easy for anyone to cut the power lines.
Many reports said the violence was an escalation in terms of the division that's being created within the demonstrations and the various groups that are trying to take control of the voice on the streets of Baghdad.
The attacks came a day after a string of suspicious stabbing incidents left at least 13 wounded in Baghdad's Tahrir Square, the epicentre of Iraq's leaderless weeks-long protest movement.
More than 400 protesters have been killed and nearly 20,000 wounded since anti-government demonstrations erupted on October 1.
Last Updated Dec 8, 2019, 2:42 PM IST