'If US had to pick between India and Canada, it would...': Former Pentagon Official reveals
Former Pentagon official Michael Rubin said that India is far more important strategically than Canada is and Ottawa picking up a fight with India is like "an ant picking up a fight against an elephant".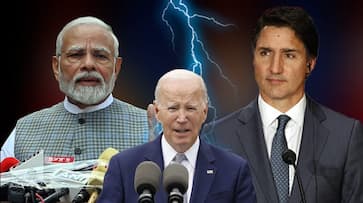 Former Pentagon official Michael Rubin stated that if the United States had to pick between Ottawa and New Delhi, it would undoubtedly select the latter because the relationship is "too important," adding that Justin Trudeau's accusations have put Canada in "greater danger" than India. He said India is considerably more significant strategically than Canada, and for Ottawa to engage in conflict with India would be like "an ant engaging in conflict with an elephant."
Referring to Justin Trudeau's low support ratings, Rubin continued, "He's not going to be prime minister for long, and the US can rebuild the relationship after he's gone."
"I believe Prime Minister Trudeau has made a critical error. He has made statements that he hasn't been able to support. Either he was acting on the spur of the moment, or the charges he leveled against the administration are unfounded. If there is something there, he must explain why this administration protected a terrorist," according to the former Pentagon officer.
Hardeep Singh Nijjar, a designated terrorist in India, was gunned down outside a Gurdwara, in a parking area in Canada's Surrey, British Columbia on June 18.
"I suspect that the United States doesn't want to be painted a corner to choose between two friends. But if we have to choose between two friends, increasingly we're going to choose India on this matter," he added.
After Canadian Prime Minister Justin Trudeau claimed that India was responsible for the death of Khalistani terrorist Hardeep Singh Nijjar, relations between India and Canada became much worse. Following this, a top diplomat was expelled by both nations in retaliation. However, India has out-rightly denied such allegations calling them 'absurd' and 'motivated'.
Last Updated Sep 23, 2023, 11:12 AM IST