'Hindu Canadians are fearful...' Canadian MP Chandra Arya slams PM Trudeau's government
Canadian MP Chandra Arya slammed his own Liberal Party-led govt for inaction against Khalistan terrorists. Arya claimed that following threats from extremists, Hindu Canadians were afraid. The possibility of racial and sectarian bloodbath in Canada is substantial, according to a column he also mentioned.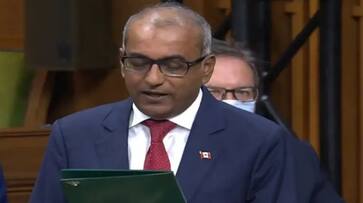 Holding his own party-led government in Canada responsible for inaction against Khalistan extremists, Liberal party MP Chandra Arya on Sunday asserted that Hindu Canadians were fearful after threats issued by extremist elements. Arya, a legislator from the party of Prime Minister Justin Trudeau, has regularly brought up the subject of threats against Hindu Canadians and asked the community to maintain composure and vigilance.
Arya's comments came after threats against the Hindu population in Canada from Gurpatwant Singh Pannun and other extreme groups, telling them to return to India amid the ongoing dispute between the two nations.
Chandra Arya stated, "I am more concerned about the outcome of what happened after the PM's (Trudeau) statement," in an interview with CBC News. "The safety of Hindu Canadians in our country is a concern, and they are afraid," he added.
He also cited a popular column, which had stated "The risk of ethnic and sectarian bloodshed in Canada is real." "What I am worried is that the bloodshed is going to be Hindu Canadian's blood," Arya added.
After Canadian Prime Minister Justin Trudeau made sensational claims about the "potential" participation of Indian operatives in the murder of Khalistani terrorist Hardeep Singh Nijjar, 45, on Canadian territory on June 18 in British Columbia, tensions between India and Canada escalated. India had designated Nijjar as a terrorist in 2020.
India angrily rejected the allegations as "absurd" and "motivated" and expelled a senior Canadian diplomat in a tit-for-tat move to Ottawa's expulsion of an Indian official over the case.
Last Updated Sep 25, 2023, 9:18 AM IST