Have enough Israeli captives to free all Palestinian prisoners, claims Hamas as war rages on
Hamas militant group launched the biggest attack on Israel in years on Saturday, prompting PM Benjamin Netanyahu to declare 'war'. As the war rages on, Hamas claims it has enough Israeli captives to free all Palestinian detainees.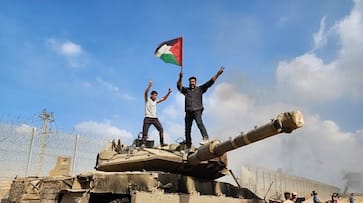 Even as the war between Israel and Palestine rages on, Hamas militant group's Deputy Chief Saleh al-Arouri on Saturday revealed that they have captured a significant number of Israeli soldiers, including senior officers. In an interview with Al Jazeera, Al-Arouri expressed confidence that these captives could play a crucial role in securing the release of Palestinian prisoners currently held in Israeli jails. The Hamas leader also emphasised that the ongoing battle is for freedom and the determination to safeguard Palestinian holy sites.
Also read: Disturbing! Israeli woman soldier allegedly killed and paraded naked by Palestinians; WATCH viral video
"We managed to kill and capture many Israeli soldiers. The fighting is still on. As to our prisoners I say, your freedom is looming large. What we have in hand will see you set free. The longer fighting continues, the higher the number of prisoners will become," the Hamas deputy chief told Al Jazeera. He added that the group has captured "a big number" of Israelis. He said "senior officers" were among them.
Al-Arouri's revelation that Hamas has captured a significant number of Israeli soldiers, including senior officers, is a significant development in the ongoing conflict. These captives hold strategic importance for Hamas, as they could potentially be used as leverage to negotiate the release of Palestinian prisoners in Israeli custody.
Al-Arouri also said that Palestinians have a right to freedom, to fight the Israeli occupation and to safeguard their holy sites. "We will continue to fight until we are rewarded with victory, freedom and independence," he said.
"This is not a [hit-and-run] operation; we started an all-out battle. We expect fighting to continue and the fighting front to expand. We have one prime target: our freedom and the freedom of our holy sites," he added.
Also read: WATCH: Hamas' Ismail Haniyeh, other members offering prayers after executing attack on Israel sparks outrage
The Hamas deputy chief also mentioned that the group is prepared for 'the worst-case scenario'. "All scenarios are now possible and we are ready for an [Israeli] land invasion," he said.
At least 100 Israelis, 200 Palestinians killed after Hamas attack triggers major escalation
Al-Arouri's comments come hours after Hamas launched the biggest attack on Israel in years, prompting Israel Prime Minister Benjamin Netanyahu to declare 'war' and asserted that his country would extract an "unprecedented price" from its enemy. According to unconfirmed reports, at least 100 Israelis and close to 200 Palestinians were killed, and hundreds were left injured following the Hamas incursion and Israeli Defence Forces' (IDF) response, making the operation the deadliest in Israeli territory in years.
"We are at war, not in an operation or in rounds, but at war. This morning, Hamas launched a murderous surprise attack against the State of Israel and its citizens. We have been in this since the early morning hours," Netanyahu told his countrymen in a televised address.
Also read: Amid Hamas offensive, Jerusalem mosques use loudspeakers urging to join 'holy war' against Israel - WATCH
"I convened the heads of the security establishment and ordered, first of all, to clear out the communities that have been infiltrated by terrorists. This is currently being carried out. At the same time, I have ordered an extensive mobilization of reserves and that we return fire of a magnitude that the enemy has not known. The enemy will pay an unprecedented price," he said in his first public comment since the attack began on Saturday morning.
The Israel Defence Force (IDF) has initiated Operation 'Iron Swords' in response to a surprise attack by Hamas. The attack, which involved air, land, and sea elements, included a barrage of rockets launched from the Gaza Strip and infiltration into Israel's heavily fortified southern border. This assault occurred unexpectedly during a major holiday, catching the country off-guard.
Rear Adm. Daniel Hagari, the IDF spokesman, informed reporters that more than 2,200 rockets had been fired into Israel since 6:30 AM in the wake of the attack. Israeli troops were engaged in clashes with infiltrators at at least seven locations, according to Hagari.
Hamas claimed that its actions were in response to what it termed "aggression against the Al-Aqsa Mosque." A senior Hamas commander reported that thousands of rockets were launched from Gaza into Israel. Additionally, Hamas stated that it had fired 5,000 rockets in an early morning barrage, dubbing it "Operation al-Aqsa Flood."
Tragically, the rocket attacks resulted in casualties, including a woman in her 60s killed by a direct rocket hit in the southern Gderot area. Others suffered injuries, with some in serious condition. Israel's Minister of Defence, Yoav Gallant, urged citizens to follow security instructions and reported that IDF troops were actively combating the enemy.
Also read: Explained: Timeline of Israel-Palestine conflict in Gaza
Hamas' military leader, Mohammed Deif, warned that this was only the first stage of their renewed efforts against Israel, and he called on Arabs in various regions to join the "revolution" against the occupiers. Deif also urged Islamic resistance groups in Lebanon, Iraq, Syria, and Lebanon to unite their efforts with the Palestinians and march towards Palestine. Saleh al-Arouri, deputy head of Hamas, echoed these sentiments and appealed to Arab and Islamic nations to support "Operation al-Aqsa Flood."
Amid the fighting, Ofir Liebstein, the head of the Sha'ar Hanegev Regional Council, was killed. The council reported that he died while defending a town during the terrorist attack. The Israeli military issued instructions for residents of towns near the Gaza Strip to stay in their homes, while the rest of the public was advised to remain near bomb shelters.
The unprecedented attack has spurred internal unity, with protest leaders discontinuing ongoing demonstrations against the government's judicial overhaul plan. Additionally, soldiers who had been boycotting army duty decided to report for duty. The attack on Simchat Torah has evoked painful memories of the 1973 war, which occurred almost 50 years ago to the day, when Israel's enemies launched a surprise attack on Yom Kippur.
Last Updated Oct 7, 2023, 8:21 PM IST