WATCH: Hamas' Ismail Haniyeh, other members offering prayers after executing attack on Israel sparks outrage
A viral video of Hamas chief Ismail Haniyeh and other members of the group offering prayers after watching their unprovoked attack on Israel on TV has sparked massive outrage on social media.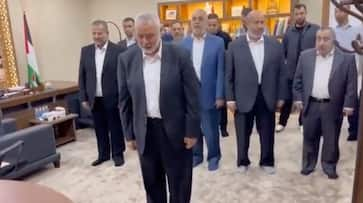 At least 22 people have been killed and over 500 injured after thousands of rockets were fired into Israel from the Gaza Strip in a surprise attack by the Hamas militant group on Saturday morning. Even as large plumes of black smoke can be seen rising from a number of Israeli towns, a video of Hamas leader Ismail Haniyeh, Saleh al-Arouri and other members of the group's leadership bowing down and praying after launching an unprovoked attack has gone viral on X, formerly Twitter.
The video, said to have been filmed in Qatar, has drawn sharp reactions from several X users, with most calling the Hamas leadership's act of killing innocent Israelis as 'disgusting'.
"How disgusting it is that you kill innocent people and then pray to thank Allah for the great success of your terror operation. Islamists are monster and a danger to the world," said Darya Safai, a member of Belgian Parliament.
Another user on X named Rajeev Singh Rathore added, "Hamas leader Ismail Haniyeh is bowing down and praying after Palestinian terrorists k!lled innocent people of Israel including women & children. Who prays and celebrate after k!lling innocent women & children. What mentality these people have who bow down to thank their god for taking lives of innocent people."
"Terrorist cowards "celebrate" the murder and kidnapping of Israeli men women and children by praying. This footage is of Islamic regime supported Hamas chief, Ismail Haniyeh, along with Saleh al-Arouri, and others. Here they watch the barbaric attack on Israeli civilians," noted Israeli-American write and speaker Emily Schrader on X.
Another user noted, "He is Hamas leader Ismail Haniyeh He is well aware that, Hamas Terr0rists attacking innocent Israeli Citizens on ground He is bowing down to Allah after the attack on innocent Israelis. People like this will bring only Shame."
Earlier today, Israeli Prime Minister Benjamin Netanyahu, in his first public address following the unexpected assault by Islamic Hamas, declared that the country is currently engaged in a state of warfare and is determined to exact an unparalleled cost from its adversary.
"We are at war, not in an operation or in rounds, but at war. This morning, Hamas launched a murderous surprise attack against the State of Israel and its citizens. We have been in this since the early morning hours," Netanyahu told his countrymen in a televised address.
"I convened the heads of the security establishment and ordered, first of all, to clear out the communities that have been infiltrated by terrorists. This is currently being carried out," he added.
Unconfirmed reports of people being taken hostages and also kidnapping of soldiers have been doing the rounds, but they remain unverified.
"At the same time, I have ordered an extensive mobilization of reserves and that we return fire of a magnitude that the enemy has not known. The enemy will pay an unprecedented price," Netanyahu warned as the Israeli army called for mobilisation of reservists.
"In the meantime, I call on the citizens of Israel to strictly adhere to the directives of the IDF and Home Front Command. We are at war, and we will win it," Netanyahu asserted.
In an unprecedented move, Hamas launched a major attack on Israel at daybreak. They fired thousands of rockets, and simultaneously, dozens of Hamas fighters infiltrated Israel's heavily fortified border using air, land, and sea routes, catching the country off-guard during a significant holiday. A senior Hamas commander has stated that thousands of rockets were launched from Gaza into Israel.
This serious invasion, occurring on Simchat Torah, evoked painful memories of the 1973 war, which took place nearly 50 years ago to the day. During that conflict, Israel's adversaries launched a surprise attack on Yom Kippur.
Last Updated Oct 7, 2023, 4:48 PM IST