Amid Hamas offensive, Jerusalem mosques use loudspeakers urging to join 'holy war' against Israel - WATCH
According to reports and a viral video on X, mosques in Jerusalem are allegedly using loudspeakers to incite Muslims to join the 'holy war' against Israel amid Hamas' offensive.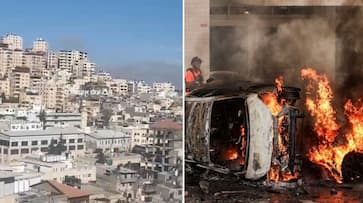 As Hamas launched a massive attack on Israel from the Gaza Strip on Saturday, certain mosques in Jerusalem have reportedly begun to incite the Muslim community to participate in the 'holy war' against Israel. Videos circulating on social media reportedly depict the minaret loudspeakers of these mosques being used to rally Muslims for combat against the Israeli defence forces.
Also read: WATCH: Hamas' Ismail Haniyeh, other members offering prayers after executing attack on Israel sparks outrage
It has been reported that mosques within the Shuafat refugee camp, located within the Jerusalem municipality, have utilised their loudspeakers to encourage Islamists in Israel to join Hamas members in attacks against Israelis. Asianet Newsable cannot vouch for the authenticity of this viral video.
Earlier in the day, Hamas launched thousands of rockets from the Gaza Strip into Israel, striking numerous civilian areas. The sheer volume of rockets overwhelmed Israel's Iron Dome missile defence system. While some rockets were intercepted, many others hit populated areas within Israel.
Also read: Disturbing! Israeli woman soldier allegedly killed and paraded naked by Palestinians; WATCH viral video
Simultaneously, Hamas terrorists infiltrated Israel via land, sea, and air, carrying out indiscriminate terror attacks on civilians, resulting in casualties. These terrorists engaged in clashes with Israel Defence Force troops in the border town of Sderot and other locations.
The Israel Defence Forces have initiated "Operation Iron Swords" in response to Hamas's surprise attack, and Israel has declared a 'state of readiness for war,' signifying the potential for a full-scale conflict. Currently, IDF troops are engaged in combat with Hamas fighters in at least seven different areas.
Also read: Israel declares national emergency after 22 killed, hundreds injured in attack by Hamas
Last Updated Oct 7, 2023, 5:38 PM IST