Hamburg airport hostage drama ends after nearly 16 hours; man arrested, daughter unharmed (WATCH)
A 35-year-old man took his 4-year-old daughter hostage at Hamburg Airport, leading to a 16-hour standoff involving a gunman, resulting in evacuations, flight cancellations, and eventual peaceful resolution by the police.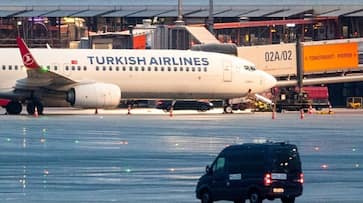 The hostage situation at Hamburg Airport in Germany, which persisted for almost 16 hours, concluded on Sunday, confirmed by the police. A 35-year-old man took his 4-year-old daughter hostage, driving to the airport. The latest update from Hamburg police indicated that the hostage scenario is resolved. The suspect and his daughter exited the vehicle, leading to the man's arrest by emergency services without resistance. Fortunately, the girl was unharmed.
Around 2 am (IST) today, a gunman forcefully entered the Hamburg airport by ramming his car through the security gates. This aggressive entry involved firing two shots into the air and throwing two burning bottles from the vehicle, as described by a police spokesman.
The car parked under a plane at the airport contained a 35-year-old man and a 4-year-old girl, suspected to be involved in a possible custody battle, as suggested by authorities. The father's actions appear linked to this situation, supported by the girl's mother, who had alerted the police about the abduction.
According to reports from NDR, a Germany-based news outlet, the girl was with her mother in Stage before the 35-year-old man, a resident of Buxtehude, "forcibly snatched" the child from the woman.
As a precautionary measure, a Turkish Airlines plane and other aircraft were evacuated, reported by DW. The terminal buildings were cleared, affecting over 3,000 passengers with the cancellation of more than 60 flights due to the ongoing standoff.
Earlier statements from the Hamburg police highlighted the presence of a substantial emergency services team at the airport, including psychologists and negotiation-specialized officers. Their efforts involved maintaining contact with the individual inside the vehicle throughout the situation.
Also read: From cyber threats to medical breakthroughs, Baba Vanga's cryptic predictions for 2024
Last Updated Nov 5, 2023, 8:28 PM IST