'Good bye to my wife, India...' Israeli journalist Hananya Naftali called up to fight for nation
Hananya Naftali announced that he is leaving to defend his county in a heartfelt post. He shared a photo of him hugging his wife on X, previously twitter, and said that in his absence, she will be managing his social media account.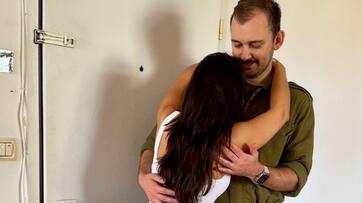 An Israeli journalist posted a picture of himself saying goodbye to his wife after he was drafted into the military amid the nation's ongoing war against the militant group Hamas. Hananya Naftali has written on his X profile (formerly known as Twitter) that he is a media personality and talks to the camera about peace in the Middle East. 
Taking to X, formerly known as Twitter, he wrote: "I am drafted as well to serve and defend my country Israel. I said goodbye to my wife India, who sent me with blessings and protection of God."
"From now on she will be managing and posting on my behalf so be nice to her," the journalist said in the post. 
In a video, he can be seen strolling through an open field, explaining why he was sent. He wrote: "The reason we are deployed is not just to defend our borders, it's literally to defend our homes and families." 
"This is a war between good and evil," he said. 
He wrote: "Israel stands together in another post! Myself and other soldiers were given food and water by our countrymen and women as we made our way to the front lines. I was deeply touched to receive two bottles of water and ice cream in this moving display of national solidarity during these challenging times," he said. 
Since Saturday, when Israel declared war on Hamas, a record 300,000 reserve soldiers have been called up, according to a military spokeswoman. This occurs as Israel gets about to launch a significant offensive against the terrorist organisation.
Last Updated Oct 10, 2023, 9:51 AM IST