A month on, Israel's most devastating war in Gaza is poised to escalate further
Israel's deadliest ever war in Gaza, sparked by the October 7 Hamas attacks, entered its second month on Tuesday as Prime Minister Benjamin Netanyahu stressed there would be no ceasefire until the 240 hostages are released.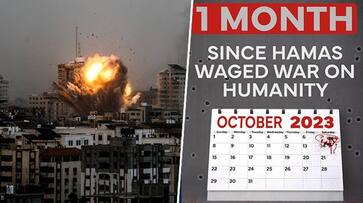 The bloodiest war Israel has ever fought in Gaza, which was started by the Hamas onslaught on October 7, entered its second month on Tuesday. Prime Minister Benjamin Netanyahu emphasised that there would not be a ceasefire until the group frees its 240 hostages. In addition, Netanyahu stated that Israel will take "overall security" in Gaza following the conclusion of the conflict, allowing for potential "tactical pauses" in order to liberate prisoners and provide supplies to the 2.4 million Palestinians living under blockade.
The death toll in Gaza has tragically surpassed 10,000, predominantly civilians, according to the Hamas-run health ministry. UN Secretary-General Antonio Guterres warned that Gaza was becoming a tragic "graveyard for children."
Also read: One month later: How Gaza war has reshaped reality for Israelis, Palestinians as threat of WWIII looms
Israel pledged to eliminate the Islamist operatives responsible for an unprecedented attack that claimed 1,400 lives in Israel, including entire families and young people at a music festival, as per Israeli officials.
Israel has relentlessly targeted Gaza with over 12,000 air and artillery strikes and deployed ground forces, effectively dividing the strip. The Israeli army reported securing a Hamas military base, uncovering weaponry and intelligence materials.
The Israeli army said on Monday that in the latest battles its "troops secured a military stronghold belonging to the Hamas terrorist organisation in the northern Gaza Strip. Anti-tank missiles and launchers, weapons and various intelligence materials were located in the compound by the troops."
Gaza's devastation is immense, with entire city blocks destroyed and bodies accumulating outside overwhelmed hospitals. Residents like Mahmud Meshmesh in Deir al-Balah expressed the anguish caused by relentless strikes that have taken many lives, including women and children.
"These are massacres. They destroyed three houses over the heads of their inhabitants -- women and children," he told AFP.
Although Israel has ordered Palestinian civilians in northern Gaza to go south via text messages and airdrops, a US official stated on Saturday that at least 350,000 civilians were still in the worst-affected regions.
Also read: Faces of Israeli hostages projected on Jerusalem walls, candle-light vigil marks 1 month since Hamas attack
There will be weeks of intense house-to-house battle in Gaza, from which Israel withdrew in 2005 and launched its most recent land invasion there in 2014, military strategists said.
"Hamas has had 15 years to prepare a dense 'defence in depth' that integrates subterranean, ground-level and above-ground fortifications," said Michael Knights of the Washington Institute think tank to AFP.
In addition, "improvised explosive devices, explosively formed penetrator anti-armour mines, and buildings rigged as explosive booby traps" are among the group's defences, he claimed.
The fact that the hostages, who may include small children and old people in fragile condition, are thought to be kept inside a network of tunnels that stretches hundreds of kilometres (miles), has made the operation extremely difficult for Israel.
The United States, Israel's closest friend, has supported the country in its fight against Hamas, but it has also encouraged moderation, facilitated some humanitarian deliveries, and allowed several hundred refugees travelling on double passports to pass through the Rafah crossing with Egypt.
It has sent Secretary of State Antony Blinken on a crisis diplomacy tour of the Middle East and deployed two carrier strike groups as a strong message to Israel's other regional rivals not to join the war.
According to the Pentagon, on Monday, groups from Yemen to Lebanon have been continuously attacking Israel, thus in an effort to keep the conflict from getting worse, a US nuclear-powered Ohio-class submarine was also stationed in the Middle East.
In an interview with ABC News on Monday, Netanyahu emphasised that Israel would not relinquish control of Gaza until the war was finished.
"Israel will, for an indefinite period, ... have the overall security responsibility," he said. "When we don't have that security responsibility, what we have is the eruption of Hamas terror on a scale that we couldn't imagine," the Israeli PM added.
Netanyahu stressed that "there will be no ceasefire -- general ceasefire -- in Gaza, without the release of our hostages."
"As far as tactical, little pauses -- an hour here, an hour there -- we've had them before. I suppose we'll check the circumstances in order to enable goods -- humanitarian goods -- to come in or our hostages, individual hostages, to leave," he added.
As the conflict rages on, Israeli soldiers stationed close to the Gaza border told AFP they are anxious but also happy to be defending their nation. An unidentified 20-year-old soldier stationed close to Gaza expressed his fear of entering the area, saying that "you never know if you can come back alive."
The UN Office for the Coordination of Humanitarian Affairs reported that some 30 Israeli soldiers had died as a result of the offensive, with the most recent death being on Monday. The claim cited Israeli sources.
Blinken landed in Japan for a G7 foreign ministers meeting aimed at establishing a unified stance on the Gaza situation. Discussions about Gaza's future governance post-conflict occurred during Blinken's diplomatic engagements, suggesting the Palestinian Authority's potential return to power in Gaza under President Mahmud Abbas.
According to Abbas, the PA won't be allowed to rule Gaza again until there is a "comprehensive political solution" to the Israeli-Palestinian conflict.
"No force on Earth could annihilate" Hamas, as said by Osama Hamdan, the top Hamas leader in Lebanon, and the organisation declared that it would never tolerate a puppet administration in Gaza.
Protests both anti-Israel and pro-Palestinian have taken place all around the world, with participants expressing disgust at the increasing level of human suffering in Gaza.
Last Updated Nov 7, 2023, 3:08 PM IST