G20 Summit: Russia calls Delhi Declaration balanced, Ukraine says it is 'nothing to be proud of'
During the G20 Summit in New Delhi, leaders adopted a consensus Summit Declaration that avoided directly condemning Russia for its actions but urged all nations not to use force for territorial acquisition. The Russian G20 sherpa praised the balanced representation, but Ukraine's foreign ministry expressed disappointment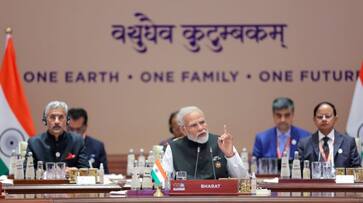 Russia has expressed approval for the G20 Summit Declaration, which refrained from directly censuring Moscow for the Ukraine conflict, emphasizing that the leaders of the bloc had acted in the interest of conflict resolution as discussions entered their second day on Sunday. The G20 Leaders' Meeting, convened in New Delhi on Saturday, reached a consensus declaration that refrained from condemning Russia for the war in Ukraine but called upon all nations to refrain from using force to acquire territory. Russia has characterized its actions as a "special military operation" in Ukraine.
Svetlana Lukash, the Russian G20 sherpa or government negotiator, stated, "There were very difficult negotiations on the Ukraine issue; first of all, the collective position of the BRICS countries and partners worked, everything was reflected in a balanced form...," as reported by the Russian news agency Interfax.
In the lead-up to the summit, G20 member states grappled to find common ground on the Ukraine conflict, with Western nations urging others to condemn Moscow for its invasion of Ukraine and Russia insisting on blocking any resolution that did not align with its perspective.
Lukash acknowledged the challenges faced during the summit, describing it as "one of the most difficult G20 summits in the almost twenty-year history of the forum." She noted that nearly 20 days of negotiations preceded the summit, with an additional five days of deliberations during the event itself. 
Disagreements on the Ukraine issue, as well as disparities on key topics like climate change and transitioning to low-carbon energy systems, contributed to the protracted discussions.
An unnamed European Union official commended India's strong leadership and underscored the pivotal roles played by Brazil and South Africa in reaching a consensus on the G20 leaders' declaration. Notably, US President Joe Biden and British Prime Minister Rishi Sunak are among the summit participants.
Ukraine's foreign ministry expressed disappointment with the Delhi declaration, stating that it had nothing to be proud of and that Ukrainian involvement would have provided participants with a better understanding of the situation. Ukraine had sought to attend the summit of the world's largest economies.
Russia's invasion of Ukraine in 2022 has resulted in a significant loss of life, the displacement of millions, and widespread economic turmoil. Moscow denies allegations of atrocities during the conflict.
Last Updated Sep 10, 2023, 12:17 PM IST