G20 Summit: Rejoin Black Sea Grain Initiative, EU tells Russia
Moscow had walked away from the United Nations Black Sea Grain Initiative on July 14, claiming that "it has lost the meaning." EU President Ursula Von der Leyen has called on Russia to allow the grain from Ukraine to reach global markets via the Black Sea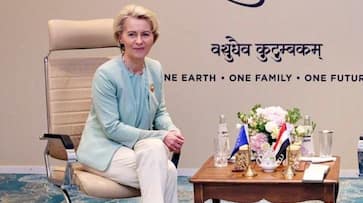 Amidst the ongoing Russia-Ukraine war, the European Union on Saturday again asked Russian authorities to rejoin the grain initiative and allow the movement of food grains to the international market through the Black Sea in order to stabilize food prices. Speaking at the 'One Earth' session of the G20 Summit in Delhi, EU President Ursula Von der Leyen said: "Food security is also a victim of Russia's aggression in Ukraine. We call on Russia to allow the grain from Ukraine to reach global markets via the Black Sea. We are doing our utmost to facilitate the grain to reach global markets via the land route."
"But for global prices to stabilise, grain also has to travel by sea," she said, adding, "No one should go hungry and the leaders of the G20 have the responsibility and the tools to enable the flow of grain to where it is needed."
It is pertinent to mention here that Moscow had walked away from the United Nations Black Sea Grain Initiative on July 14, claiming that "it has lost the meaning."
Earlier, the global leaders had also urged Russia to rejoin an agreement that safely delivered Ukraine's grain worldwide and stabilized food prices.
The initiative was brokered by the United Nations and Turkey in July 2022. Over 32 million metric tons of Ukrainian agricultural exports have happened via the Black Sea. Nearly 19 million metric tons went to developing countries. 
As per the United Nations, the food prices were reduced by over 23 per cent since March 2022. 
'We need technology and finance'
Talking about the issue of climate change, the EU President said it is man-made. "So it means we can fix it."
The G20 countries alone account for 80 percent of the Carbon House Gas (GHG) emissions while Africa, on the other hand, has less than 4 percent of GHG emissions. "But it is among the most affected by climate change," she said.
"To tackle this challenge, we need technology and we need finance. Delivering on the 100 billion dollars climate finance target this year is a must. The EU is doing its fair share, with 27 billion dollars delivered in 2021, and I want to assure you that we will continue to do so," Ursula Von der Leyen said.
"But more revenues will be needed. Which brings me to carbon pricing. In the European Union, our Emissions Trading System has helped reduce emissions by 35 percent, while generating over 152 billion euros of revenues since 2005. Revenues that we use to invest in green technologies and to support the most vulnerable groups. Yet only 23 percent of global emissions today are covered by a carbon price in the range needed to meet out Paris goals. We have launched the Call for Action for Paris Aligned Carbon Markets to bring this share to at least 60 percent. And make sure that a fair and big share of this goes to developing countries and emerging markets," the EU president said.
Last Updated Sep 9, 2023, 4:22 PM IST