Explained: Why US is wary of Israel going to war with Hezbollah
Girish Linganna explores the dynamics surrounding potential Israeli action against Hezbollah, advised against by U.S. officials due to concerns of drawing Hezbollah into the Israel-Hamas conflict. Learn about efforts to restrain Hezbollah and maintain regional stability.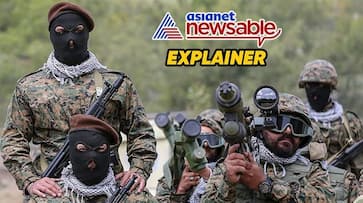 United States President Joe Biden and his senior advisors have been advising Israeli leaders against initiating any significant attack on Hezbollah, the militia operating out of Lebanon. Such an action could potentially draw the Hezbollah into the ongoing Israel-Hamas conflict.
US officials are worried that certain members of Israel's more hawkish war cabinet have expressed a desire to confront Hezbollah, even as Israel is already engaged in a prolonged conflict against Hamas following the October 7 attacks. The US is emphasizing to the Israelis the challenges of simultaneously dealing with both Hamas in the south and the much more potent Hezbollah in the north.
US officials are also seeking to restrain Hezbollah. In various meetings held throughout the Middle East, American diplomats have been encouraging their Arab counterparts to facilitate communication with the group. This includes using their connections in Iran to convey messages aimed at preventing a potential conflict between Israel and Hezbollah. These efforts are meant to avert any outbreak of hostilities, whether initiated by the militia or the Israelis.
Hezbollah Tensions: Ongoing Cross-Border Conflict
In the deadliest escalation since their 2006 war, Hezbollah in Lebanon and Israel have been engaged in cross-border exchanges of fire. This conflict poses a threat to expand the ongoing hostilities between Israel and the Palestinian group Hamas.
Hezbollah, with support from Iran, has expressed its readiness to intervene when necessary in the Israel-Hamas conflict, also supported by Tehran. Sources suggest that Hezbollah's recent attacks have been designed to be limited in scope, with the intention of avoiding the outbreak of another major war.
Israel's defence minister, on October 15, had stated that Israel had no desire to initiate a conflict on its northern border. He emphasized that if Hezbollah exercised restraint, Israel would reciprocate by maintaining the current situation along the border.
The Roots of Hezbollah
Hezbollah was established by Iran's Revolutionary Guards in 1982 during Lebanon's civil war, which spanned from 1975 to 1990. This move was a significant part of Iran's strategy to spread its 1979 Islamic Revolution throughout the region and to combat Israeli forces following their invasion of Lebanon in 1982.
Aligned with Tehran's Shi'ite Islamist beliefs, Hezbollah enlisted Lebanese Shi'ite Muslims. Over time, this organization has transformed from an obscure faction into a heavily armed entity with significant influence over the Lebanese government. The United States, along with certain Western governments and other entities, categorize the outfit as a terrorist entity.
Military Strength of Hezbollah
Unlike other groups that disarmed after Lebanon's civil war, Hezbollah retained its weapons to confront Israeli forces occupying the predominantly Shi'ite south of the country. Years of guerrilla warfare ultimately led to Israel's withdrawal in 2000.
Hezbollah showcased its military capabilities in 2006 during a five-week conflict with Israel. This conflict began when Hezbollah crossed into Israel, capturing two soldiers and causing casualties.
During this war, Hezbollah launched thousands of rockets into Israel, resulting in 1,200 casualties in Lebanon, primarily civilians, and the death of 158 Israelis, most of whom were soldiers.
Hezbollah's military strength expanded as it deployed into Syria, an additional ally of Iran in the region. There, it supported President Bashar al-Assad in battling predominantly Sunni Muslim rebels.
Hezbollah claims possession of an arsenal that encompasses precision rockets and drones, asserting the capability to target any region in Israel. In 2021, the Hezbollah leader, Sayyed Hassan Nasrallah, announced that the group had 100,000 fighters.
Iran provides Hezbollah with both weapons and financial support. According to US estimates, Iran has been allocating hundreds of millions of dollars to Hezbollah on an annual basis in recent years.
Hezbollah's Involvement in the Israel-Hamas Conflict
Hezbollah maintains strong connections with both Hamas, which controls Gaza, and Islamic Jihad, another Palestinian faction supported by Iran.
On October 7, the day Hamas militants carried out a significant attack from Gaza into Israel, resulting in the loss of 1,300 lives, Hezbollah stated that it was in "direct contact with the leadership of the Palestinian resistance". In response to Israel's extensive airstrikes on Gaza, more than 2,750 people have been killed.
Since October 7, Hezbollah has engaged in cross-border exchanges of fire with Israel on multiple occasions. Additionally, Hamas and Islamic Jihad, both of which have a presence in Lebanon, have initiated attacks on Israel from Lebanon for the first time, including an October 10 cross-border infiltration by Islamic Jihad.
Tzachi Hanegbi, the national security adviser to Israeli Prime Minister Benjamin Netanyahu, mentioned on October 14 that the hostilities seemed to be under control. He cautioned Hezbollah against actions that could jeopardize Lebanon's well-being.
What influence does Hezbollah hold in the region?
Hezbollah has served as both a model and a provider of assistance to various Iranian-backed groups throughout the Middle East. It has offered training to armed factions in Iraq and actively participated in conflict within the country.
Saudi Arabia alleges that Hezbollah has also engaged in combat in support of the Iran-aligned Houthi forces in Yemen. Hezbollah, however, refutes these claims.
Hezbollah's Function in Lebanon
Hezbollah's influence is primarily upheld by its sophisticated weaponry and the backing of many Lebanese Shi'ites who view the group as a defender of Lebanon against Israel.
On the contrary, Lebanese factions opposed to Hezbollah assert that the group has weakened the state and accuse it of unilaterally involving Lebanon in armed conflicts.
Hezbollah holds ministerial positions in the government and has representatives in the parliament.
Its significant involvement in Lebanese politics became more evident in 2005, following Syria's withdrawal from Lebanon after the assassination of former Prime Minister Rafik al-Hariri, who represented Saudi influence in the country.
A UN-supported court convicted three Hezbollah members in absentia for their alleged role in the assassination. However, Hezbollah denies any involvement and regards the court as a tool of its adversaries.
In 2008, a power struggle emerged between Hezbollah and its Lebanese political opponents, who were backed by Western nations and Saudi Arabia. This tension escalated into a brief conflict, with Hezbollah fighters seizing parts of Beirut after the government pledged to take action against the group's military communications network.
In 2016, Michel Aoun, a Christian politician aligned with Hezbollah, assumed the presidency in Lebanon, where the presidency is designated for a Maronite Christian within the country's sectarian political structure.
Two years later, Hezbollah and its political allies secured a majority in the parliament. Although this majority was lost in 2022, the group maintained significant political influence.
Hezbollah actively opposed a judge investigating the 2020 Beirut port explosion, which caused extensive damage in the capital. The judge had sought to question individuals connected to Hezbollah. This standoff led to violent clashes in Beirut in 2021.
Hezbollah's Involvement in Attacks
According to Lebanese security officials and Western intelligence sources, entities with connections to Hezbollah were involved in suicide attacks against Western embassies and facilities and the kidnapping of Western individuals during the 1980s. One such group, Islamic Jihad (unrelated to the Palestinian organization), was believed to have been led by Imad Moughniyah, a prominent Hezbollah commander who died in a car bombing in Syria in 2008.
The United States attributes responsibility to Hezbollah for a suicide bombing that devastated the US Marine headquarters in Beirut in 1983, resulting in the deaths of 241 American servicemen, as well as a suicide attack on the U.S. embassy in the same year. Additionally, a suicide bombing targeted a French barracks in Beirut in 1983, claiming the lives of 58 French paratroopers.
In a 2022 interview, Hezbollah leader Nasrallah stated that these attacks and hostage-takings were carried out by small groups not affiliated with Hezbollah.
How do the West and others view Hezbollah?
Western nations, including the United States, categorize Hezbollah as a terrorist organization. This classification is also applied by U.S.-allied Gulf Arab states, including Saudi Arabia.
The European Union designates Hezbollah's military branch as a terrorist group, though not its political division.
Argentina holds Hezbollah and Iran responsible for the 1994 bombing of a Jewish community centre in Buenos Aires, resulting in the deaths of 85 people, as well as a 1992 attack on the Israeli embassy in Buenos Aires that claimed 29 lives. Both Iran and Hezbollah deny any involvement in these incidents.
Last Updated Oct 22, 2023, 10:48 AM IST