Coronavirus: Watch how job applicants sit 5 metres apart to write exam at South Korea football stadium
Watch how South Korean job applicants wrote an exam at a football stadium while maintaining social distance to combat the novel coronavirus (COVID-19)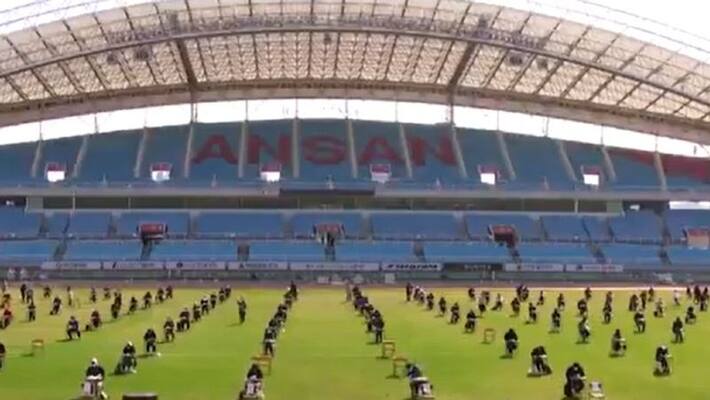 Seoul: Over 100 job seekers wrote exam in a football stadium while maintaining social distancing amid the novel coronavirus (COVID-19) pandemic in South Korea.
At the Ansan Wa Stadium in Ansan, southwest of Seoul, applicants maintained five metres distance from each other as they wrote their 90-minute exam. The stadium hosts football matches and this was an unusual sight on Saturday (April 4) due to the coronavirus.
Also read: Man walks from France to Spain to buy cigarettes amid lockdown
The 6,600 square-metre stadium saw 139 persons take up the exam conducted by Ansan Urban Corporation. All those who wrote the exam wore face masks and their temperatures were checked.
Also read: In world's first, tiger tests positive for coronavirus
"It's really rare to look at the grass while you're taking an exam. Today is really different and unconventional," an applicant told in a video posted by Reuters news agency on Monday (April 6).
"It was a bit difficult to take the exam here because it was cold, but it's still a relief that I am able to take the exam at all," another person who wrote the exam told the news agency.
According to KBS World Radio website, "The Ansan corporation's president said the company believed it should not postpone the recruitment of new employees amid the economic crisis caused by the pandemic, and the public sector should lead by example when it comes to employment."
So far, South Korea reported more than 10,000 coronavirus cases and 186 have lost their lives.
Last Updated Apr 6, 2020, 6:27 PM IST