Justin Trudeau still in India, likely to fly out today as backup plane en route
Canadian Prime Minister Justin Trudeau, who continues to stay in his room in New Delhi's Lalit Hotel after his Airbus plane developed a snag, may finally fly off by Tuesday late afternoon.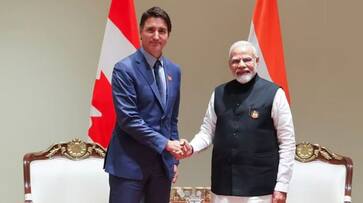 Canadian Prime Minister Justin Trudeau is stuck in India with his country's delegation after the jet they arrived on broke down. A backup plane and replacement components are on their way to India. According to media reports, Trudeau will either go home on the backup jet or wait for the main plane to be repaired. The representative baulked at providing specifics of what has to be replaced.
"The Canadian Armed Forces continue their best efforts to get the Canadian delegation home," said a statement from Trudeau's office. "Their latest update shows an earliest possible departure of Tuesday late afternoon. The situation remains fluid."
The Airbus A310s that carry Trudeau and other top officials abroad date back to the 1980s and are badly showing their age. They are so old they require refueling stops for Trudeau's trips to Asia, often with stopovers in Alaska and Japan before reaching their final destination.
Meanwhile, Trudeau skipped the dinner for the G20 leaders on Saturday, with the Canadian Prime Minister's Office refusing to say why, according to Canada's CTV News. Then there was this moment of awkwardness at the event when G20 leaders paid tributes to Mahatma Gandhi at Rajghat on Sunday.
Trudeau's last trip to India in 2018
Trudeau's trip for the G20 Summit is drawing parallels to his widely-criticised 2018 India visit. The official trip to India by Canadian Prime Minister Justin Trudeau in 2018 received harsh criticism on three different fronts.
The reason was a series of missteps which started with Trudeau's choice of attire. His repeated donning of traditional Indian outfits was considered over-the-top and inappropriate by many. The invitation of Jaspal Atwal, a convicted former Khalistani terrorist, to a reception organised by the Canadian High Commission was the second significant problem. Trudeau suffered a diplomatic setback as a result, weakening Canadian-Indian ties. 
The final criticism of Trudeau's itinerary was that it resembled a family vacation rather than an official visit. He spent more time touring than in business meetings, raising doubts about how genuine his intentions were.
 
Last Updated Sep 12, 2023, 9:02 AM IST