Beirut blast: Death toll rises to 135, 5000 injured; shock turns to anger as public blames officials
In Lebanon, public rage focused on the negligence of officials who allowed dangerous cargo to sit on a dock for years.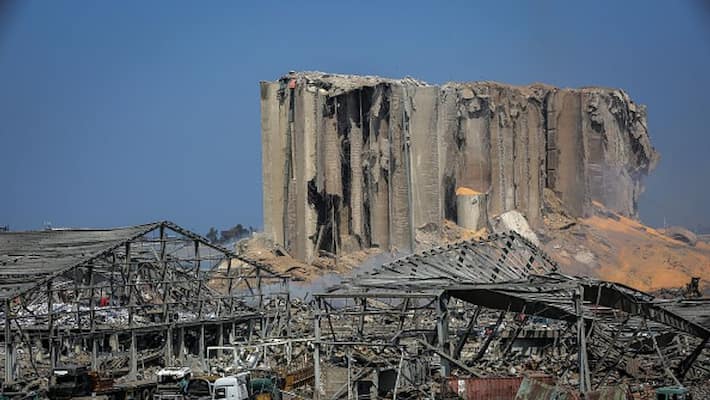 Beirut: The Lebanese government has declared a two-week state of emergency after two huge explosions on Tuesday killed at least 135 people and injured around 5,000.
"What we are witnessing is a huge catastrophe," the head of Lebanon's Red Cross, George Kettani, told the Beirut-based news network Al Mayadeen. "There are victims and casualties everywhere."
Prime Minister Hassan Diab said the cause of the explosion was 2,700 tonnes of ammonium nitrate, a common industrial chemical used in fertiliser and as a component in mining explosives.
An initial investigation has reportedly found years of inaction and "negligence" around the removal of the ammonium nitrate is to blame for the blast.
Public anger mounted against the ruling elite that is being blamed for the chronic mismanagement and carelessness that led to the disaster. The Port of Beirut and customs office is notorious for being one of the most corrupt and lucrative institutions in Lebanon where various factions and politicians, including Hezbollah, hold sway.
The investigation is focusing on how 2,750 tons of ammonium nitrate, a highly explosive chemical used in fertilizers, came to be stored at the facility for six years, and why nothing was done about it. "As head of the government, I will not relax until we find the responsible party for what happened, hold it accountable and apply the most serious punishments against it," Prime Minister Hassan Diab said.
The European Union has activated its civil protection system to round up emergency workers and equipment from member states. Governments worldwide have sent support, including Kuwait, Norway and Australia.
Losses from the blast are estimated to be between $10 billion to $15 billion, Beirut Gov. Marwan Abboud told Saudi-owned TV station Al-Hadath, adding that nearly 300,000 people are homeless.
Rescuers continue to search for victims who remain trapped under rubble. In one video shared on Wednesday, a search team can be heard clapping and cheering as a survivor is pulled to safety.
Residents, desperate to reach their loved ones, have been sharing pictures of missing relatives, as well as phone numbers online.
Hospitals, several of which were damaged in the blast, have been inundated with patients. In the Gemmayze district, medical teams were forced to triage patients in a car park, while the Red Cross said it is coordinating with the Lebanese health ministry to set up morgues.
Last Updated Aug 6, 2020, 9:24 AM IST