'Behead enemy, extract hearts & livers': Chilling handwritten note to Hamas operative by commanders in Gaza
"Know that this enemy of yours is a disease that has no cure, other than beheading and extracting the hearts and livers," read a handwritten note shared by the Israel Defence Forces and attributed to Hamas commanders in Gaza to an operative.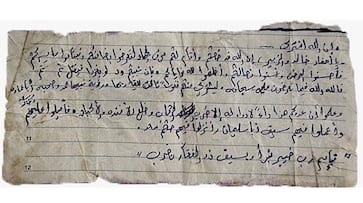 In a chilling revelation, the Israel Defence Forces (IDF) recently uncovered a handwritten note on a Hamas terrorist involved in the October 7 massacre. The note, attributed to Hamas commanders in Gaza, contained a shocking message that underscored the group's sinister intentions. It read: "Know that this enemy of yours is a disease that has no cure, other than beheading and extracting the hearts and livers." This disturbing message offers a stark insight into the brutal tactics employed by Hamas and its determination to sow terror and violence.
Hamas, a Palestinian organisation, has long been labeled as a terrorist group by various countries and organizations, including Israel, the United States, the European Union, and others. This note only serves to reinforce the seriousness of these designations.
The message found on the terrorist from the October 7 attack leaves little room for interpretation. It reveals a level of brutality and disregard for human life that is deeply unsettling. Hamas has a history of launching attacks against civilian populations and using tactics that blatantly violate international humanitarian laws. This note, shared by the IDF on X on Wednesday, further highlights the group's willingness to target innocent civilians and employ gruesome methods as part of its strategy.
Meanwhile, Israel is preparing for a ground offensive into Gaza as the world keeps a close eye on PM Benjamin Netanyahu's next move. In the past eighteen days, there has been a significant escalation of violence in the Israeli-Palestinian conflict. The situation began with an attack by more than 2,000 individuals associated with Hamas, resulting in the tragic loss of lives, including families and concertgoers.
This event marked one of the deadliest terrorist attacks in Israel's history. In response, Israel declared war on Hamas and initiated a series of airstrikes on Gaza. According to Palestinian health officials, these airstrikes have led to the loss of over 5,000 Palestinian lives.
Also read: Israel's Golani Brigade, first responders to October 7 Hamas attack, ready for Gaza ground assault (WATCH)
Last Updated Oct 25, 2023, 5:19 PM IST