When Joe Biden drove a Jeep Wrangler around White House
US President Joe Biden has signed an executive order aiming for half of the new vehicles on the country's roads to be electric by end of 2030.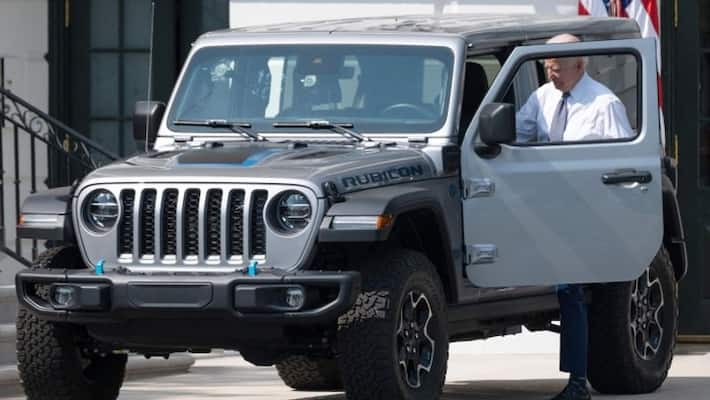 It is unusual to see a Jeep Wrangler zipping around the South Lawn of the White House, especially if it is the United States President himself behind the steering wheel.
US President Joe Biden took a hybrid Jeep Wrangler 4xe Rubicon for a spin before extolling the virtues of owning an electric vehicle. The plug-in hybrid electric vehicle has a 17-kWh lithium-ion battery pack paired with a 2.0L I4 DOHC direct-injection Turbo PHEV engine.
Earlier in the day, Biden announced that he had received an assurance from the American carmakers that their electric vehicles would account for half of the country's sales of light trucks and new passenger cars by the end of the decade.
Speaking to the media after his test drive, Biden said, "The question is whether we lead or lag behind in the race for the future. The rest of the world is moving ahead. We have to catch up."
He even declared that he would be the first to drive an electric Corvette when manufactured. 
Officials of top American carmakers -- Ford, Chrysler, and Jeep -- were at the White House when Biden signed the executive order on strengthening American leadership in clean cars and trucks. 
Biden further said that the new order was aimed at improving the American economy and public health, secure consumer savings, advance environmental justice, boost energy security, and address the climate crisis.
Last Updated Aug 6, 2021, 9:20 AM IST