As war rages on, Israel demolishes Hamas' Palestine Tower in Gaza strip; WATCH dramatic video
An Israeli airstrike has flattened a high-rise building in central Gaza City. The 14-story Palestine Tower is home to dozens of families. But it also held offices connected to the Hamas militant group.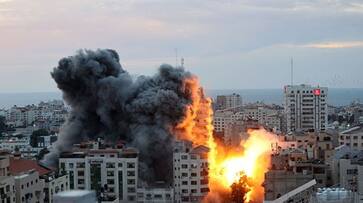 Hours after Israel Defence Forces launched 'Operation Iron Swords' in the wake of Hamas militant group's unprovoked attack on Saturday morning, the IDF successfully demolished the "Palestine Tower," a 14-storey building situated in the Gaza Strip. This strategic move marks a critical blow against Hamas militants, who had been using the tower for both weapons storage and the planning of their operations.
Also read: Disturbing! Israeli woman soldier allegedly killed and paraded naked by Palestinians; WATCH viral video
Before the airstrike, Israeli authorities issued a 10-minute warning to the building's inhabitants, allowing them to evacuate safely. This precautionary measure ensured that there were no injuries resulting from the demolition.
The "Palestine Tower" had served as a symbol of strategic importance for Hamas, offering a vantage point for their military activities and a secure location for their clandestine operations. Over the years, Hamas had exploited such structures to carry out attacks against Israel, often launching rockets from within civilian areas, endangering innocent lives.
Following the demolition, Abu Obeida, the spokesman for Hamas' military wing, issued a stern warning, promising a harsh retaliation. He ominously stated that Tel Aviv would have to "stand on one foot and wait for our earth-shattering response."
Israel's decision to target the "Palestine Tower" echoes its past actions, where it has destroyed high-rises in Gaza, citing their use by militants. These operations have often resulted in the displacement of numerous families and have previously included the building housing The Associated Press bureau during the 2021 conflict.
Also read: WATCH: Hamas' Ismail Haniyeh, other members offering prayers after executing attack on Israel sparks outrage
Hamas militants launched a daring and unprecedented early morning attack, firing thousands of rockets and infiltrating Israeli towns near the Gaza Strip. This incursion has resulted in a significant escalation, with Israel declaring itself at war with Hamas. At least 70 people have been killed, and hundreds are wounded in the deadliest attack in Israel in years. Moreover, an unknown number of Israeli soldiers and civilians have been seized and taken into Gaza, creating a highly sensitive situation.
Israel's retaliation has inflicted casualties in the Gaza Strip, with at least 198 people killed and over 1,600 wounded, according to the Palestinian Health Ministry in Gaza. The attack, marked by its strength, sophistication, and timing, has shocked Israelis and led to ongoing gunbattles within several Israeli communities.
Also read: Amid Hamas offensive, Jerusalem mosques use loudspeakers urging to join 'holy war' against Israel - WATCH
The situation has raised concerns about potential further escalation in the region. The abduction of Israeli civilians and soldiers is a deeply sensitive issue for Israel, and the IDF's response is closely watched. This incident comes on the heels of the 50th anniversary of the 1973 Mideast war, intensifying criticism of Israeli leadership regarding preparedness and the ability to foresee such a coordinated attack.
In response to the rocket barrage, Israel launched airstrikes in Gaza, vowing to exact an "unprecedented price." IDF forces are engaged in gunfights with Hamas militants who infiltrated Israel in multiple locations. The situation remains fluid and deeply challenging for both Israelis and Palestinians, with potential far-reaching implications for the region.
As the situation continues to unfold, questions remain about how Hamas managed to catch the Israeli army off guard. The ongoing conflict has raised political and security concerns, and the Israeli government faces scrutiny for its ability to anticipate and respond to such a well-coordinated attack.
Also read: Hamas' surprise attack raises questions about Israeli intelligence; 'catastrophic' failure could be probed
Last Updated Oct 7, 2023, 9:57 PM IST