Hamas' surprise attack raises questions about Israeli intelligence; 'catastrophic' failure could be probed
The surprising attack by Palestinian military group Hamas on Israel highlights questions surrounding the failure of Israeli intelligence, with former Israeli justice minister stating a potential investigation after the conflict ends.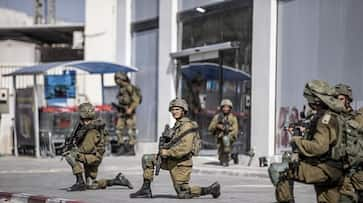 Israeli officials expressed bewilderment on Saturday as they grappled with the surprise attack launched by Palestinian militant group Hamas. The incredulity is shared by many who wonder how Israeli intelligence, with its vast resources, failed to detect and preempt the attack. Armed Palestinian gunmen managed to breach the heavily fortified border separating Israel from the Gaza Strip, while thousands of rockets rained down on Israeli territory. Given the formidable intelligence apparatus at Israel's disposal, the absence of any prior knowledge of this attack is indeed perplexing.
Chuck Freilich, Israel's former deputy national security adviser, has attributed the unprecedented Hamas military offensive, resulting in numerous Israeli casualties and prisoners, to a state of "disarray" within the Israeli armed forces and intelligence services. He drew parallels to the 1973 Yom Kippur war and characterized the situation as a "catastrophic failure" in terms of intelligence and operational preparedness, emphasizing that the Israeli response was significantly delayed due to unpreparedness and internal turmoil.
"That was a catastrophic failure in regards to Egypt and Syria. This is a catastrophic failure in regards to Gaza," he told Politico adding, "It's a failure in terms of intelligence, operationally. It's clear we were caught totally unprepared by this. The divisional headquarters responsible for Gaza was occupied, they're in disarray, and so the whole response has been delayed."
Israel's formidable intelligence machinery
Israel boasts one of the most extensive and well-funded intelligence infrastructures in the Middle East. Its intelligence agencies, including Shin Bet (domestic intelligence) and Mossad (external spy agency), are renowned for their capabilities. Israel maintains informants and agents within Palestinian militant groups and across the region, including Lebanon and Syria. In the past, it has executed precisely timed assassinations of militant leaders, displaying intimate knowledge of their movements. These operations have sometimes involved drone strikes following the placement of GPS trackers on targets' vehicles or even the use of explosive mobile phones.
Stringent security measures along Gaza Border
The Israel-Gaza border is heavily monitored, featuring cameras, ground-motion sensors, and regular army patrols. The barbed-wire-topped fence was designed as a "smart barrier" to thwart precisely the type of infiltration that occurred during this attack. However, Hamas militants managed to breach it, either by bulldozing through, cutting holes in the wire, or infiltrating from the sea and by paraglider.
According to Michael Horowitz, a security analyst and head of intelligence with risk management firm Le Beck International said, "the situation is extremely confusing because multiple hostage-taking incidents are still ongoing, and several areas are still under Hamas control. This means we don't know the full extent of the attack, the number of dead and the number of hostages."
"At the end of the day, this specific scenario — a complex attack with multiple hostage-taking incidents and an attempt to "conquer" Israeli towns for a few hours or even days — is not something Israel did not have on its radar," Horowitz said, agreeing that the scale of destruction indicates "a major intelligence failure."
Hamas' remarkable operational security
The coordinated and complex nature of this attack, involving the stockpiling and firing of thousands of rockets under Israeli noses, underscores the extraordinary levels of operational security maintained by Hamas. Such a feat has led to extensive questioning within the Israeli media, with inquiries directed at military and political leaders. The timing is particularly poignant as it coincides with the 50th anniversary of the Yom Kippur War of 1973, another surprise attack against Israel.
David Khalfa, co-director of the North Africa and Middle East Observatory at French think tank the Fondation Jean-Jaurès, told France24, "It is a major failure for the Israeli intelligence services. A failure that could even be described as historic and without exaggerating, could be compared to what happened in 1973."
"Israel is a country that is on permanent alert, ready to go into battle at any time. It is always on its toes. It is clear that there was a certain degree of unpreparedness, probably an error in the analysis and estimation on the part of Israeli intelligence services, but also in the preparation of Israeli special forces [for an attack like this]," he added.
"It seems the Israeli army itself is in a state of shock. The country is in the fog of war, and the success of Hamas's operation largely depends on an element of surprise, but also on joint army manoeuvres. The attack was three-dimensional; it took place on land, sea and by air. That is probably what surprised the Israelis. Israel is a country that relies on its technology to anticipate threats and neutralise them before they arise. It is clear that there was an issue regarding anticipation, and probably a problem in their analysis the threat level," he further stated.
"The scenario Israeli intelligence services were expecting was an invasion from the north, via Hezbollah in southern Lebanon. They were blindsided," Khalfa noted
Investigation and Immediate Concerns
Israeli officials have reportedly initiated a major investigation into the incident, anticipating that questions will linger for years. Former Israeli justice minister Yossi Beilin told Al Jazeera that how Israeli intelligence agencies missed the surprise attacks by Hamas is likely to be investigated after the fighting ends. "I believe that when it ends, then there will be inquiries and people will be asked tough questions, eventually there will be decisions about it," he added.
Nevertheless, immediate priorities include containing and suppressing the infiltration along the southern borders, securing the release of Israeli citizens taken captive, and eliminating rocket launch sites.
A broader concern: Escalation and regional spillover
One of Israel's paramount concerns is how to prevent others from responding to Hamas's call to arms, potentially leading to an escalation spreading into the West Bank. There is also the apprehension of drawing in the heavily armed fighters of Hezbollah along Israel's northern border with Lebanon. The situation remains fluid, and Israel faces the challenge of managing multiple fronts and potential escalations in the region.
Last Updated Oct 7, 2023, 9:43 PM IST