Apple launches iPad Air With New Design, 8th Gen iPad, Watch Series 6 at Time Flies event
Apple made a number of big announcements at the 'Time Flies' event. One of the announcements was the new iPad 8 and iPad Air 4. Here's all you need to know about them.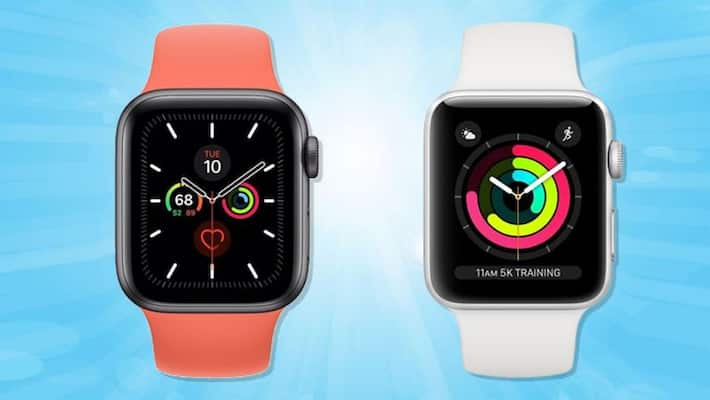 Apple CEO Tim Cook kicked off the virtual press conference from Apple Park, the company's headquarters in California. Cook announced that Apple will be focusing on Apple Watch and iPad during this event, which is the strongest confirmation you'll get about the iPhone 12 series launching a little later this year.
At the special 'Time Flies' event Tuesday (September 15), Apple announced Watch SE, Watch Series 6, iPad Air, 8th generation iPad, and a few new services.
Apple Watch Series 6
The Apple Watch Series 6 is the first product Apple announced. The headline feature of this product is its ability to measure blood oxygen saturation. It's a measure of how well your cardiovascular system is functioning. If you have the Series 6, you may not need to use a dedicated pulse oximeter.
This is the first Apple Watch to ship with a Product Red edition, which has a red band and Apple contributes a part of the proceeds from sales of Product Red edition products to charities. The Apple Watch Series 6 ships with the S6 processor that's 20% faster than its predecessor.
iPad Air 4
While all of the announcements made by Apple at the event were important, the most interesting ones were arguably around the new iPads. The iPad Air 4 has been launched by the company with a design that features a 10.9-inch edge-to-edge retina display, Touch ID, A14 Bionic processor and USB-C connectivity. The chipset promises 40% faster CPU, 30% faster graphics, and 70% faster machine learning with next-generation Neural Engine.5
This is quite interesting as iPad Air 4 features a more powerful processor than the iPad Pro. However, what's more, interesting is the fact that the iPad Air 4 also gets this new ARM processor-based chipset much before the new iPhones which will be launched later this year. As pointed out by Bloomberg's Mark Gurman, this is the first time in about nine years that the iPad has received Apple's newest chip before the iPhone.
iPad 8
Apart from the iPad Air 4, Apple also launched the 8th generation iPad at the event. The iPad 8 does not get the powerful A14 SoC. However, the iPad 8 comes with slimmer bezels than before and as a result a bigger 10.2-inch display. As it's an entry-level iPad model, there aren't too many surprises here.
This iPad has the A12 Bionic chip, a Touch ID and a similar form factor as compared to its predecessor. The processor is a big upgrade over the A10 that was powering the older iPad. The A12 Bionic was first seen on the iPhone X series. The iPad 8th Gen also supports Apple's Smart Keyboard cover and Apple Pencil.
Apple Watch SE
Another useful feature is Apple Watch Family Setup, which allows you to pair multiple Apple Watch devices to the same iPhone. This appears to be targeted at children with new features such as automatic location notifications and a school time mode that has restricted interactions with the watch during school time. It requires Apple Watch Series 4 Cellular and later and is not launching in India at the moment.
The Apple Watch Series 3 has become an important product for Apple. It may be a few-years-old, but it still has some nice features such as a built-in GPS, swim tracking, and accurate heart rate tracking. The Apple Watch SE appears to be an upgraded version of the Series 3. It uses the S5 chip for up to two times better performance than Series 3. Cellular models for Apple Watch SE will be available. Apple Watch SE also supports Fall Detection, altimeter, swimproofing, etc. Apple Watch SE has been launched at $279 in the US. The Apple Watch Series 3 will continue to be in the market at $199.
As part of its bid to be more eco friendly, Apple has announced that the Apple Watch will not ship with USB power adapters.
Apple Fitness+
Apple has also launched a fitness service called Apple Fitness+, which is targeted at Apple Watch users. Fitness+ allows you to choose workouts from the catalogue of videos that can be played on iPhone, iPad, or Apple TV. You will be seeing your fitness data on the screen, along with the trainers' videos. You will be able to see your Activity Rings on screen too. This is an example of tight integration between Apple Watch and the screen. The set of workouts on the service appears to be quite diverse and not dependent on too much equipment. Apple says its workouts will be refreshed weekly and that you can pick your choice of music while working out. Fitness+ integrates with Apple Music to let you carry over your music.
In India, the Apple Watch Series 6 (GPS) is priced at Rs 40,900 while the Watch Series 6 (GPS + Cellular) is priced at Rs 49,900. Apple prices the Watch SE (GPS) at Rs 29,900 and Watch SE (GPS + Cellular) at Rs 33,900. No availability dates have been announced for the two more affordable Apple Watch models.
The new iPad Air will be available in October at Apple Authorised Resellers. The Wi-Fi models of iPad Air will be available with a starting price of Rs 54900 and Wi-Fi + Cellular models start at Rs 66900. The compatible Apple Pencil (2nd generation) is priced Rs 10,900, while the Magic Keyboard is sold separately at Rs 27,900 and Smart Keyboard Folio at Rs 15,900.
Last Updated Sep 16, 2020, 11:14 AM IST