100 fried chicken in 2 hours: Amid labour woes, robot chefs becoming a game-changer in South Korea - WATCH
This article explores how robots are transforming South Korea's fried chicken industry, addressing labour shortages and enhancing food quality.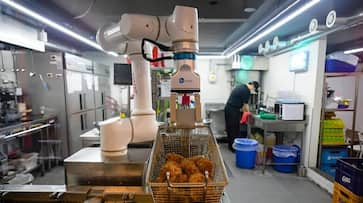 In South Korea, where fried chicken is a beloved fast-food staple, Kang Ji-young's restaurant stands out because a robot is in charge of cooking the chicken. Fried chicken is deeply ingrained in South Korean culture and has become a significant part of the nation's food scene. However, labour shortages due to South Korea's low birth rate are starting to impact the industry. Kang, a 38-year-old entrepreneur, saw an opportunity to address this issue by introducing automation into the fried chicken business, even before the COVID-19 pandemic.
Traditional Korean fried chicken is brined and double-fried, resulting in its signature crispy exterior. However, this process is more complex and labour-intensive than the methods used by typical fast-food chains in the United States. The extended cooking process, combined with the close proximity of workers to hot oil, has made finding and retaining employees challenging for many businesses in the food service sector.
Kang's innovative solution involves a robot equipped with a flexible mechanical arm capable of frying 100 chickens in just two hours. This level of efficiency far surpasses what can be achieved by a team of five people using multiple deep fryers. Not only does the robot increase efficiency, but Kang claims it also enhances the taste of the fried chicken, confidently stating that "our robot fries better than human beings do."
South Korea has recognized the potential of food-tech as a new growth engine for its economy. Already a global cultural and technological powerhouse, South Korea is now investing millions of dollars in a food-tech fund to support startups developing high-tech solutions for the food industry. The country aims to combine its expertise in advanced robotics and AI technology with the popularity of Korean culinary classics like kimchi to drive innovation in the food sector.
South Korea's existing food-tech industry is already worth millions, with startups focusing on various aspects of the food industry, from next-day grocery delivery to AI-powered kitchens and even vegan food alternatives. Major conglomerates like Samsung Electronics are also entering the food-tech arena, launching platforms like Samsung Food, which offers personalized recipes and meal planning using AI technology.
Food science professor Lee Ki-won at Seoul National University predicts that South Korea's food tech industry will become a leading sector within the next decade. Innovations such as using electric vehicles for food deliveries and deploying robots for apartment complex deliveries (known as "metamobility") could soon become part of daily life in South Korea.
Kang's successful foray into robotic food preparation has led to the establishment of 15 robot-made chicken restaurants in South Korea and one branch in Singapore. Customers at these establishments often remain unaware of the robotic cooks behind the scenes, as the machines handle the entire frying process with precision and consistency. Kang's robots monitor oil temperature and oxidation levels in real-time, ensuring both a consistent taste and superior hygiene.
Kang initially had reservations about using robots in her business but now believes that customers can enjoy cleaner and tastier food thanks to these technologies. Her next venture is a tip-free bar in New York City's Koreatown, where robots will prepare cocktails featuring Korea's soju rice wine. As automation continues to reshape the food industry in South Korea and beyond, it's clear that innovative approaches like Kang's are changing the way we experience and enjoy food.
Last Updated Sep 11, 2023, 2:34 PM IST