Zomato case: Hitesha Chandranee issues statement, says 'abused, worried about safety, Bengaluru is home'
On March 9, Chandranee had shared a video of her bleeding nose on social media, alleging that a Zomato delivery executive, later identified as Kamaraj, assaulted her.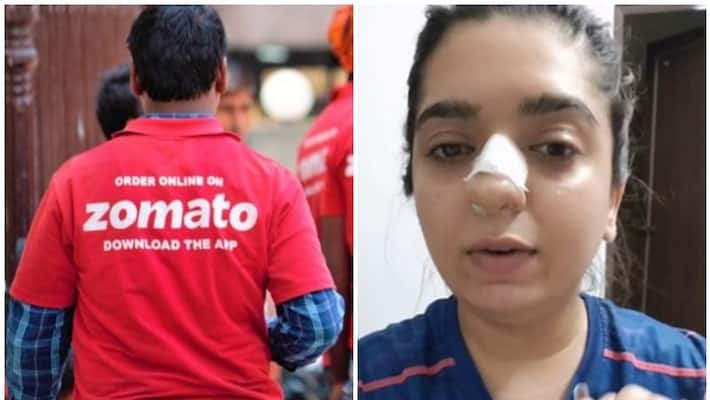 Bengaluru: Denying rumours that she left the city to evade police investigation, Instagram influencer Hitesha Chandranee -- who had accused a Zomato delivery executive in Bengaluru of punching her but was booked later allegedly for framing him, has released a statement on her Instagram page, saying she is worried about her safety.
In the statement released by Chandranee on Instagram, she said posts made by "certain celebrities" who accused her of being responsible for the incident have "hurt" her.
"The posts made by certain celebrities accusing me of being responsible for the incident have hurt me immensely as these are the people I look up to," Chandranee wrote on Instagram.
The Bengaluru woman also said that she "would not risk" her "life, reputation, respect and peace of mind by orchestrating anything" and urged everyone to "not express any opinion till the trial is completed by the appropriate legal forum".
Contrary to many reports that said she left the city, Hitesha Chandranee said she is in Bengaluru. "Bengaluru is home for me," she wrote in the post. She alleged that her words were further twisted while she only wanted to share the incident that took place.
"I live by myself in Bengaluru and the past few days have been very difficult for me and I am worried about my safety. A neutral probe by the investigative agencies will bring out the truth and I look forward to it," she wrote on Instagram.
"I have been cooperating with the police and have not left Bengaluru as spread by various quarters. Bengaluru is home for me," she said in a written statement shared on her Instagram profile.
Chandranee further stated that she had been harassed, abused, and threatened. "I have had to take medical treatment for my nose which was fractured due to the incident. I have received many calls from various people using repulsive and threatening words against me," she wrote.
Chandranee made headlines when, on March 9, she released a video on Instagram where she has a bleeding nose and narrates her sequence of events. "Zomato - are we really safe using ur services" she asked in the video. According to Chandranee, she had ordered food which ended up arriving late and complained to customer care asking for the meal to be returned or given to her for free. However, when she got into an argument with Kamaraj over her refusal to pay, she says he entered the house, took the order and struck her, before fleeing.
Electronic City police had then filed an FIR and arrested Zomato delivery executive, later identified as Kamaraj.
Kamaraj filed a counter-complaint after getting released on bail. In his complaint filed at the same police station, he accused Chandranee of abusing him and throwing slippers at him, adding that the injury to her nose might have been caused by her own ring.
Last Updated Mar 19, 2021, 11:41 AM IST