West Bengal: Bhabanipur records 21.73% polling till 9 am; Congress, BJP accuse TMC of poll-rigging
The polling, this time, assumes special significance as CM Mamata Banerjee is fighting to keep her chair as she lost to Suvendu Adhikari in the Assembly polls held earlier this year.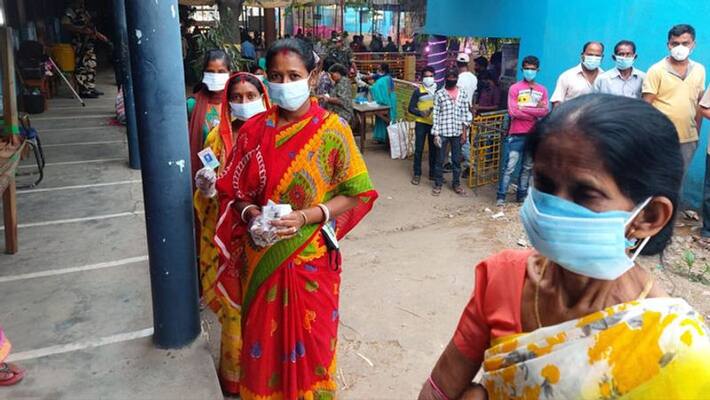 Bypolls are being conducted in three assembly constituencies in West Bengal – Bhabanipur, Samserganj, and Jangipur as well as one other constituency in Odisha – Pipli on Thursday amid tight security, stringent Covid-19 protocols, and measures to tackle rain.
The Bhabanipur seat recorded 21.73% till 11 am turnout in the polls that will decide the fate of state's chief minister Mamata Banerjee. The Election Commission has asked security parties to conduct marches throughout neighbourhoods where turnout has been low to create awareness amid voters.
The voting began at 7 am and long queues were seen since early morning outside several booths across the constituencies.  Voting will conclude at 6 pm. The polling centres have been stocked up with masks and sanitisers as part of the Covid-19 guidelines, officials said.
Meanwhile, to ensure watertight security and peaceful polling in Bhabanipur on Thursday, the Election Commission has brought in 20 more companies of Central Armed Police Personnel. With this, 35 companies of central forces have been deployed across the constituency.
Also read: West Bengal ByPolls: Polling underway in Bhabanipur, Samserganj and Jangipur
On Wednesday, Senior Congress leader Adhir Ranjan Chowdhury alleged that not every voter can cast their votes in Bhabanipur bypolls as the ruling Trinamool Congress (TMC) will prevent voters from getting out of their homes.
Addressing mediapersons, Chowdhury said, "We are contesting in Samserganj. TMC is causing violence there. They have attacked local journalists. The administration is silent as they are the agents of TMC."
"We have trust in the Election Commission. Our only demand is that the Commission must ensure that people cast their votes peacefully. I believe that not everyone can cast their vote in Bhabanipur. TMC will try to prevent the voters who probably do not give their votes to the party to get out of their homes," added the Congress leader.
Also, BJP candidate Priyanka Tibrewal, who has been pit against Trinamool Congress supremo Mamata Banerjee echoed Chowdhury's statement.
Priyanka Tibrewal said, "Madan Mitra (TMC MLA) has purposely shut the voting machine here as he wants to capture the booth," as quoted by news agency ANI.
Meanwhile, the Election Commission said polling was delayed in one of the booths in Bhabanipur due to the mock poll drive exercise and not rigging of the booth as alleged by the BJP. The BJP has fielded Priyanka Tibrewal against Banerjee and has been raising allegations of a missing level-playing field in the keenly watched constituency. "No rigging took place," the EC said. 
Last Updated Sep 30, 2021, 12:55 PM IST