How a tribal section in West Bengal moved away from communists to embrace saffron
The BJP started making an entry into Habibpur in the 1990s. The Scheduled Castes were the first to embrace the party.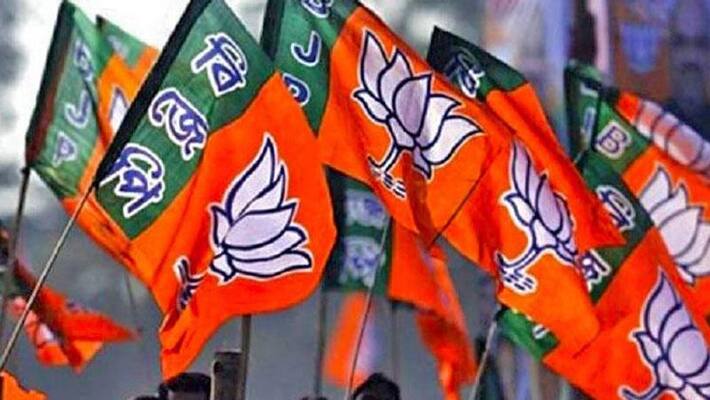 For nearly seven decades, it's been a far-fetched dream for over 1 lakh tribals of Habibpur Assembly segment in Bengal's Malda district who have been impatiently waiting for 'liberation' to come true.
For the past 70 years, the communists had been promising them 'liberation' from poverty, hunger, disease, unemployment, illiteracy and backwardness. This has just remained a distant dream.
According to a report on swarajyamag.com, far from this Left promise from coming true, the condition of the tribals have only deteriorated. So much so that an overwhelming majority of the able-bodied among them have to migrate to other states in search of employment as labourers.
Realising their dream of liberation not bearing fruit, the tribals of Habibpur decided to turn to saffron two years ago and their loyalty to Bharatiya Janata Party (BJP) has only deepened since then.
Subsistence Farming
After settling down here, the tribals started cultivating in their land and the produce were moderate. But over the years, their yields saw a steady decline due to lack of irrigation, steady decline of groundwater levels, erosion of topsoil and the alluvial soil turning sandy, lack of access to fertilisers and high-quality seeds.
"Farming is mostly unprofitable now and, at best, subsistence. So many of our youths have been forced to seek work in other states," swarajyamag.com quoted Bishu Soren, a former member of Madnabati gram panchayat of Bamangola community development block as saying.
As a result, these farmers have been forced to wholly depend on monsoons for their agriculture. Thus, farming is confined to only kharif crops (sowing in end-May to harvesting around October) and is seasonal, forcing even farmers owning land to seek employment in other states in the rest of the year.
The report further states that the communists established an early presence here by promising the moon to the gullible and simple tribals.
"They (the communists) made many promises. They said they would construct irrigation canals so that farming could become a round-the-year practice. They promised to set up rural banks to extend credit to farmers to buy agricultural implements, good quality seeds and fertilisers," the website quoted Sukumar Murmu, a former Communist Party of India-Marxist (CPI-M) loyalist who was a panchayat samiti member from Garnramari village in Habibpur community development block.
The report quotes several others speaking about communists' false promises.  
Murmu, 67, says that the communists promised to make agriculture a profitable occupation. "But instead of all that happening, many communist leaders became money-lenders who extended credit to us at extortionist rates. Many of us had to mortgage our lands to them and work as labourers in other states to repay our loans," he said.
Lands owned by the tribals cannot, under the law, be sold to non-tribals. But during the 34 years of Left misrule from 1977, non-tribal communist leaders falsified land records and took over lands belonging to tribals, said Bishu Soren of Madnabati.
The communists promised to create employment opportunities by setting up industrial units here. Not a single such unit has been set up and there have been no private investments, said Bishu Tudu, 69, a former zilla parishad member who resigned from the CPI-M in 2018 after getting completely disillusioned with that party. Tudu is now a BJP loyalist.
"A number of other measures were announced to develop Habibpur, especially the tribal areas. But such measures remained only on paper. Nothing was done to develop Habibpur's physical infrastructure, set up health centres and schools and take other concrete steps for the socio-economic development of the people," said Malda Uttar Lok Sabha member Khagen Murmu.
The Habibpur Assembly seat has been held by the CPI-M a dozen times since elections were first held to the seat in 1962. The Congress won the seat only once (1967) while an Independent candidate won it in 1971.
"But despite winning this seat so many times, the communists did nothing. There was no development at all. The socio-economic condition of all people, the tribals included, went from bad to worse," said Sangeeta Biswas, a former teacher at Habibpur High School.
"Our party leaders were never serious about improving the socio-economic plight of the people. The focus was only on retaining power and exercising power over people's lives. I had made many attempts to take up many development plans for Habibpur and proper implementation of the many announced social and economic development projects. But I was rebuffed each time," complained Khagen Murmu.
The statistics speak for themselves, as published in the swaajyamag.com report. In the Habibpur community development (CD) block, a mere 29% of the villages are connected by paved roads while in Bamangola CD Block (Habibpur Assembly segment comprises these two CD Blocks), 41% of the villages are connected by paved roads.
But many dispute even these figures. "These are just on paper. The actual number of villages connected with all-weather paved roads is much less. Only about 40% of the villages have access to piped drinking water and the state government has not started implementing the Union government's Jal Jeevan Mission (piped drinking water to every household) in Habibpur," the report quoted Joyel Murmu.
More than half the people in both the Bamangola and Habibpur CD Blocks live below the poverty line and about 55% of people are unemployed. Most households don't have attached toilets since the state government has not implemented the Swachh Bharat Mission seriously.
The 1.55 lakh residents of Bamangola CD Block do not have any college to go to, and just one ill-equipped rural hospital with absentee doctors and paramedical staff, and two primary health centres which would put healthcare facilities even in sub-Saharan Africa to shame. One-third of the villages in this CD Block do not have functional schools.
The condition of the Habibpur CD Block is not better. The 2.4 lakh people here have to make do with only one rural hospital, whose condition is no better than the two non-functional primary health centres here. There is no undergraduate college (though there exists a teachers' training college and an industrial training institute).
Habibpur remained loyal to the CPI-M even during the 2011 wave in Bengal that brought Mamata Banerjee to power. Khagen Murmu (then with the CPI-M) retained the seat very narrowly by defeating his nearest Trinamool rival by a little over 2,200 votes.
But the CPI-M has let down Habibpur very badly. "The plight of the people, especially the tribals, has actually worsened over the last few decades. As agricultural productivity declined and land alienation increased, and with no jobs or employment avenues available, poverty levels increased," said Khagen Murmu.
Turning Saffron
The BJP started making an entry into Habibpur in the 1990s. The Scheduled Castes were the first to embrace the party. The report states the detailed journey of the saffron party.
"We were completely neglected by the CPI-M who treated us as mere voters who were to be used only during elections and discarded and kept in poverty always. They (the CPI-M) kept us poor and backward since an improvement in our socio-economic conditions would trigger more aspirations amongst us and the CPI-M knew it would not be able to meet those aspirations," swarajyamag.com quoted Rina Devi, a resident of Jagdala, a village in Bamangola CD Block who retired as the headteacher of a state-run secondary school.
The BJP started posting creditable performances in elections from Habibpur from 2001, bagging a few thousand votes. In the 2006 assembly polls, Khagen Murmu won very narrowly against his BJP rival Ramlal Handsa, who got a 37% vote share.
In the 2011 polls, the BJP's performance went down with its candidate Krishna Chandra Munda getting a vote share of a little over 20%.
In 2016, BJP's Pradeep Baskey came third with a 22.59% vote share while in the 2019 bypolls, BJP's Joyel Murmu bagged 92,300 votes and a vote share of 50.93%.
Joyel Murmu has been re-nominated by the BJP, while Pradeep Baskey (who was the BJP candidate in 2016) has been fielded by the Trinamool after he switched over to that party from the BJP.
Apart from poverty, unemployment, backwardness and lack of development, the fear of being marginalised by Bangladeshi-origin Muslims has also led to a surge in support for the BJP in recent years.
Joyel Murmu, thus, looks all set to not only retain Habibpur, but also improve his 2019 winning margin of 30,613 votes.
(This article was first published in swarajyamag.com)
Last Updated Apr 23, 2021, 6:46 PM IST