We expect India and international countries stand by Afghanistan people: Afghan students
Afghanistan students studying in India, blamed Pakistan and USA for the current mess and Taliban taking over the government. They have appealed to India and international communities to stand by them. Students who dreamed of going back and working in Afghanistan say that they don't have hope now. The students expect that the Taliban shuns their conservative thinking.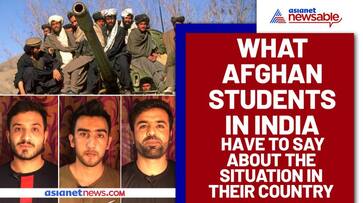 Afghanistan students studying in India and dreaming of serving their country and developing it are now expressing shock over the Taliban taking over the administration.
Students studying in different colleges in Bengaluru say that they are worried about the current situation in their country as the Taliban has a notorious history.
"
The students expect that the freedom that they got in 20 years to be allowed and expect the Taliban to allow the continuation of girls' education and also allow women to work.
Distressed and confused students also appealed to India and the international community to stand by Afghanistan people at this tough time.
The students feel sad about the development in Afghanistan and say the people of the war-torn nation don't deserve this and hope that the international communities don't abandon them.
Students blamed the current mess in their country on Pakistan, US and China.
 
Last Updated Aug 19, 2021, 10:39 AM IST