Ruckus in Rajya Sabha as Congress MPs raise slogans over rise in fuel prices, adjourned till 1 pm
Following sloganeering by Congress MPs over their demand for a discussion on the rise in fuel prices, Rajya Sabha Chairman M Venkaiah Naidu adjourned the Upper House till 1 pm.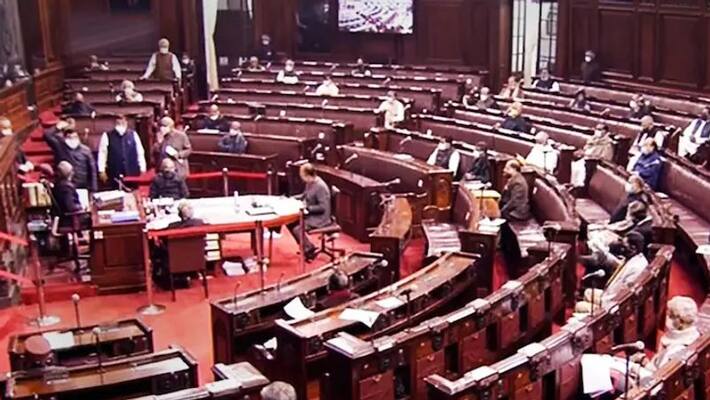 The second part of the Budget session of Parliament began on Monday. The main focus of the government in the second part of the session is to get various demands of grants for the financial year 2021-22 passed along with the Finance Bill which carries various tax proposals.
As of now, the Session will conclude on April 8.
The Budget Session proceedings in Rajya Sabha resumed at 11 am. Mallikarjun Kharge once again demanded a discussion on the rise in petrol-diesel rates.
To this, Rajya Sabha Deputy Chairman said that several appropriation bills are pending and that fuel price hike can be discussed later.
Amid sloganeering by Congress MPs, Rajya Sabha was adjourned till 1 pm.
Earlier Naidu had adjourned the Upper House till 11 am and said, "I don't want to take any drastic action on the first day."
The first part of the Budget session started on January 29 with the President's address to joint sitting of both houses of Parliament. The address was boycotted by over 20 opposition parties, including the Congress, in support of the demand of the protesting farmers for the repeal of the three farm laws.
Meanwhile, women MPs spoke on the occasion of Women's Day.
Chhaya Verma, of the Congress from Chhattisgarh said, "The slogan of Beti Bachao, Beti Padhao sounds good, but is far from the reality with so many cases of crime against women."
Chairman Naidu said we should not drag politics into Women's Day speeches.
Saroj Pandey of the BJP defended the 'Beti Bachao, Beti Padhao' slogan, and says that under the Modi regime, the sex ratio has improved.
Sonal Mansingh of the BJP said, "if we celebrate Women's Day, then we should celebrate Men's day too."
Priyanka Chaturvedi of Shiv Sena said, "we should reserve 50% of the seats in Parliament for women. If we constitute 50% of the population, then why not give us 50% reservation."
Seema Dwivedi of BJP said she hasn't been differentiated against being a woman in her career as a politician. "The men around me have been very supportive." She wishes all women on International Women's Day.
Sampatiya Uikey of the BJP said women representation in all levels of governance has been on the rise. "All women, be it a woman in rural areas or in the urban areas, they are getting a lot of respect," she said.
Last Updated Mar 8, 2021, 11:22 AM IST