RSS chief Bhagwat blames Centre too for second Covid wave, but appeals to nation to stay positive
"Success is not final. Failure is not fatal. The courage to continue is what matters," RSS chief Mohan Bhagwat said.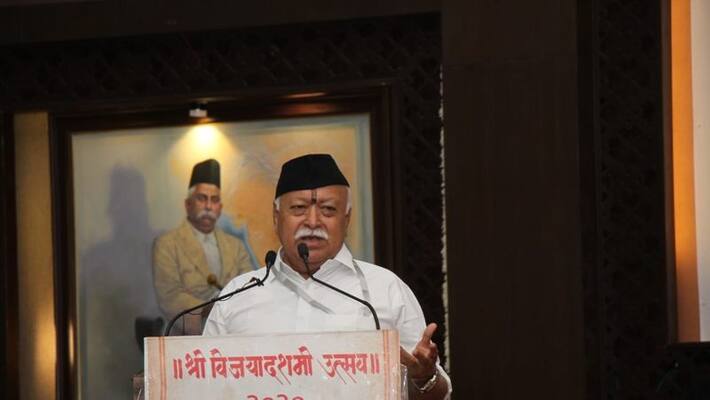 Rashtriya Swayamsevak Sangh chief Mohan Bhagwat on Saturday said that the reason why the country had to bear the brunt of the second wave of Coronavirus cases was that everyone, including the government, had become negligent after the first wave.
Addressing the 'Positivity Unlimited' online lecture series, Bhagwat said that the country should not fear but instead prepare for a possible third wave of Coronavirus.
"Success is not final. Failure is not fatal. The courage to continue is what matters," he said.
Calling for unity in times of adversity, the RSS chief said: "These are testing times, but we have to stay united and work as a team. We should avoid making irrational statements in current circumstances."
"We have to work as a team without discussing merits and demerits. We can do it later. We can overcome this challenge by working as a team and speeding up our work," he added.
Stating that it was difficult to talk about positivity when many had lost near and dear ones, Bhagwat emphasised the need to physically remain Coronavirus negative and mentally positive.
"Do not allow the mind to fall into pessimism and negativity. Yes, there are so many dangerous incidents. But there are a lot of positive actions by society. Many are working with the motto -- Thy need is important," the RSS chief said. 
The 'Positivity Unlimited' series ended today with RSS chief Mohan Bhagwat's lecture. Other eminent personalities who spoke at the forum include Wipro Group founder Azim Premji, Sri Sri Ravishankar of Art of Living, Sadhguru Jaggi Vasudev of Isha Foundation.
Organised by the Covid Response Team, an outfit formed by the RSS and its affiliates in association with civil services groups, the intent behind the lecture series was to imbibe confidence in the social setting aside fear, hopelessness, helplessness and negativity, and motivating people to brace for a long haul with societal changes after Covid-19.
Last Updated May 15, 2021, 6:09 PM IST