Prime Minister Modi shares his Panchamrit in Glasgow
Prime Minister Narendra Modi made it clear that developed nations must make climate finance of one trillion dollars available at the earliest.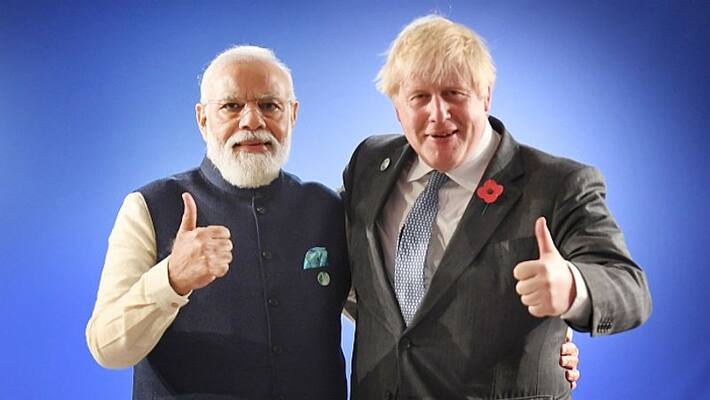 Sharing India's mantra of tackling climate change through 'Panchamrit', Prime Minister Narendra Modi on Monday said New Delhi expects developed nations to make climate finance of one trillion dollars available at the earliest. 
The 'panchamrit' which has been given by the prime minister at the global brainstorming on climate change at Glasgow in Scotland, includes fulfilment of 50 per cent of energy requirement through renewable energy, usage of non-fossil energy capacity to 500 GW by 2030, bringing down of carbon intensity by 45 per cent by 2030, reduction of net projected carbon emission by a billion tonnes and achieve net-zero emission by 2070.
Addressing the COP26 World Leaders' Summit on Monday, the prime minister had said that India's contribution to the emission has only been 5 per cent even though the country constituted 17 per cent of the global population. He further said that there is a global consensus about India being the only major economy that has delivered on Paris agreements in letter and spirit.
Stating that the promises made so far over climate finance have proven to be hollow, PM Modi made it clear that at a time when his country was taking forward its ambition regarding climate action, global expectations over climate finance cannot be remain where they were at the time of signing of Paris Agreement.
Talking about the importance of climate finance and the transfer of low-cost technology transfer, Prime Minister Modi laid out India's expectations from the developed nations. He said that the developed nations must make the climate finance of a trillion dollars available at the earliest. 
Stating that it was important to track climate finance the way the progress of climate mitigation was being tracked, the Prime Minister said it would be an appropriate justice to create pressure on the nations that do not fulfil their own promises of climate finance.
The Prime Minister acknowledged that climate change is a major threat to the existence of many developing countries, and expressed hope that the decisions taken in Glasgow will save the future of the next generations. On the occasion, the prime minister also asked the world leaders to take forward the LIFE -- Lifestyle For Environment -- movement to bring a change in the climate situation.
Also Read
Prime Minister Modi shares 'adaptation' mantra at mega climate meet
Climate change big challenge for agriculture sector: PM Modi at COP26 global climate summit
India on track to meet its Paris Climate Agreement targets, reveals report
Last Updated Nov 2, 2021, 1:59 PM IST