'CMs sat like puppets': Mamata Vs BJP spat has been reignited
Mamata termed the Prime Minister's video conference with district magistrates as a flop meeting and claimed that he did not ask any chief minister about the medicine, vaccine, Remdesivir or oxygen situation. BJP hits back saying that interaction with chief ministers was never on the agenda.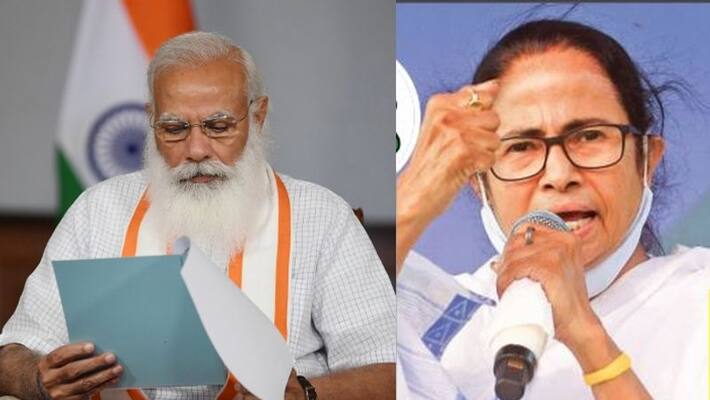 West Bengal Chief Minister Mamata Banerjee on Thursday criticised the Narendra Modi government for reducing state chief ministers to mere puppets, triggering an onslaught from the Bharatiya Janata Party.
Speaking after the Prime Minister's interaction with district magistrates of 10 states, Mamata termed the video conference as a flop meeting and claimed that the Centre did not ask any chief minister about the medicine, vaccine, Remdesivir or oxygen situation.
"The chief ministers are feeling insulted and humiliated. We are not bonded labourers. A dictatorship is going on. The Prime Minister feels so insecure that he does not even listen to the chief ministers. What is this fear about," she asked.
Responding to why no district magistrate from West Bengal attended the meeting, Mamata said they did not join because she was present.
Accusing the Centre of showing step-motherly attitude towards Bengal, Mamata trained guns at Prime Minister Modi. She wondered that if the Prime Minister claims that the situation has improved, why is it that so many people are dying daily.
BJP: Interaction with CM never on agenda
Mamata's remarks met with stiff opposition from the BJP, which accused the West Bengal chief minister of hijacking the Prime Minister's meeting. 
BJP leaders claimed that the meeting was called so that Prime Minister could take stock of the Covid-19 situation with district magistrates and that interaction with chief ministers was not on the agenda.
Government sources said that the format of the interaction was shared in advance with the states and that no other chief minister had raised the issue barring Mamata, who apparently wanted to create a drama after skipping many earlier review meetings with the Prime Minister.
Mamata's former aide and now BJP leader Suvendu Adhikari tweeted, "To state clearly, PM @narendramodi has held numerous meetings with chief ministers in the last few months, how many did @MamataOfficial attend? ZERO. Now, she hijacks a PM-DM meet to say she was denied a chance to speak. Shameful!"
Refuting Mamata's claims of favouritism, the BJP said that five out of the seven district magistrates who spoke on Thursday during the video conference belonged to non-BJP ruled states of Chhattisgarh, Kerala, Maharashtra, Rajasthan and Andhra Pradesh.
Terming Mamata's conduct as very inappropriate, Union Law Minister Ravi Shankar Prasad accused the West Bengal chief minister of attempting to derail efforts to combat Coronavirus.
He said, "Mamata did not attend important meetings called by Niti Aayog and Prime Minister Modi earlier. Today, she tried to disturb the meeting with district magistrates. What is wrong in the PM meeting district magistrates? Individual efforts should be shared as well."
Last Updated May 20, 2021, 3:54 PM IST