PM Modi launches 'Asom Mala' programme in Assam, breaks silence on farmers' protest toolkit
Asom Mala road project under Bharat Mala will play a major role in improving connectivity in the state.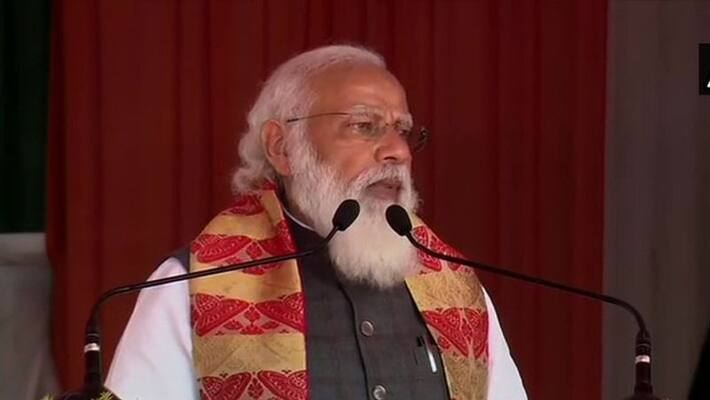 Guwahati: PM Modi on Sunday launched 'Asom Mala' programme worth Rs 8,210 crore in Sonitpur district of Assam and laid the foundation stone for 2 medical colleges and hospitals in Biswanath and Charaideo.
While addressing the people of Assam, the Prime Minister said that it is his dream that every state has at least 1 medical college and 1 technical college should teach in the native language of the state.
Modi said, "Assam is playing a major role as the northeast is moving towards new heights. Today, Ayushman Bharat has benefitted more than 1.25 crore people of Assam."
Assam Mala road project under Bharat Mala will play a major role in improving connectivity in the state. The PM said it will improve state highways and connect villages to the urban centres in the next 15 years.
'Foreign powers trying to destroy Assam's tea'
Breaking his silence on the farmers protest toolkit shared by Swedish climate activisi, Greta Thunberg, PM Modi said, "People who are conspiring to defame India have stooped so low that they are not sparing even Indian tea. You must have heard in news that these conspirators are vowing to malign the image of Indian tea in a systematic manner across the world." 
"Some documents that have come up reveal that some foreign powers are planning to attack India's image associated with tea. Will you accept this attack? You will accept the people involved in this attack? Will you accept those praising these attackers?," questioned PM Modi.
He lauded the Assam government for transferring cash to the bank accounts of some 7.5 lakh tea plantation workers. The transfer was done on Saturday at a function in Guwahati that Finance Minister Nirmala Sitharaman presided over.
The Prime Minister will also visit West Bengal later today, where he will dedicate to the nation and also lay the foundation stone of key infrastructure projects at Haldia.
In Bengal, Modi will inaugurate an LPG import terminal built by the state-run BPCL that has been constructed at an investment of around Rs 1,100 crore and has a capacity of 1 million metric tonnes per annum. He will also dedicate to the nation the 348-km Dobhi-Durgapur natural gas pipeline section, which is part of the Pradhan Mantri Urja Ganga Project.
Last Updated Feb 7, 2021, 3:21 PM IST