Petrol, diesel prices today: Rates soar to record high after latest hike; check today's prices in your city
Petrol has crossed the Rs 100-a-litre mark in Delhi, Rajasthan, Madhya Pradesh, Maharashtra, Andhra Pradesh, Telangana, Karnataka, Jammu and Kashmir, Odisha, Tamil Nadu, Ladakh, and some cities of Bihar and Punjab.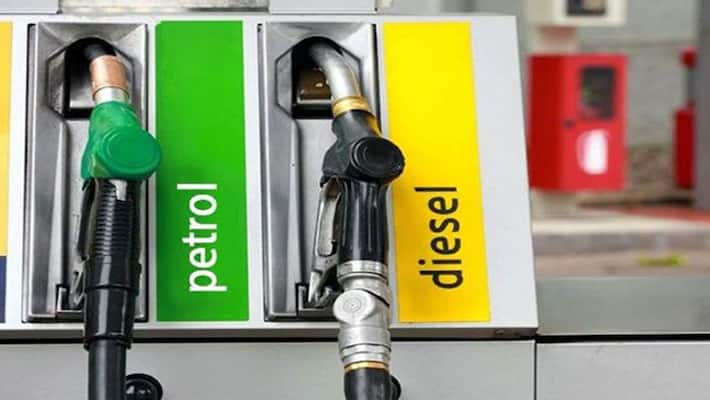 Petrol and diesel jumped to record high levels on Wednesday as rates were increased again after a two-day pause. Petrol price was hiked by 31-35 paise per litre and diesel by 33-37 paise a litre. Petrol and diesel rates have increased 19 times so far in October.
Indian Oil Corporation Ltd (IOCL), Hindustan Petroleum Corporation Ltd (HPCL) and Bharat Petroleum Corporation Ltd (BPCL) revise the fuel prices daily in line with benchmark international price and foreign exchange rates.
Petrol in the national capital today costs Rs 107.94 per litre, hiked by 35 paise since yesterday. Meanwhile, diesel in the capital city was retailing at Rs 96.67 per litre, up 35 paise.
Mumbai's petrol cost is still the highest across metro cities. In Mumbai, petrol is getting closer to the Rs 114 per litre mark and is currently selling for Rs 113.80 per litre. Diesel in the country's financial capital costs Rs 104.75 per litre.
Commuters in West Bengal's capital Kolkata, have to shell out Rs 108.45 for a litre of petrol after a 34 paise rise over Tuesday's rate and Rs 99.78 for a litre of diesel.
Also read: Government plans to privatise 13 airports by March 2022
Petrol costs Rs 104.83 per litre in Chennai, diesel has reached Rs 100.92 per litre in Tamil Nadu's capital.
While petrol costs Rs 111.70 per litre in Bengaluru, it is priced at Rs 112.27 per litre in Hyderabad. Diesel has reached Rs 102.60 per litre and Rs 105.46 per litre in Bengaluru and Hyderabad respectively.
Fuel is most exorbitantly priced in Bhopal and Jaipur among major Indian cities. A litre of petrol costs Rs 116.62 per litre whereas diesel is being sold for Rs 106.01 per litre in Madhya Pradesh's capital city. Petrol and diesel cost Rs 115.21 per litre and Rs 106.47 per litre in Jaipur respectively.
Among the six metro cities, fuel rates are the highest in Mumbai, according to the state-run oil refiner. Fuel rates vary across the states due to value-added tax or VAT.
Central and state taxes make up for more than 61 per cent of the retail price of petrol and about 56 per cent of diesel. The Centre levies Rs 32.9 per litre of excise duty on petrol and Rs 31.80 a litre on diesel.
Last Updated Oct 27, 2021, 10:45 AM IST