Nanded gurudwara attack: 17 arrested after violence; 4 cops injured, one critical
Despite the ban on gatherings in the state, the locals had planned to go ahead with the procession. The police had put up barricades near the gurdwara.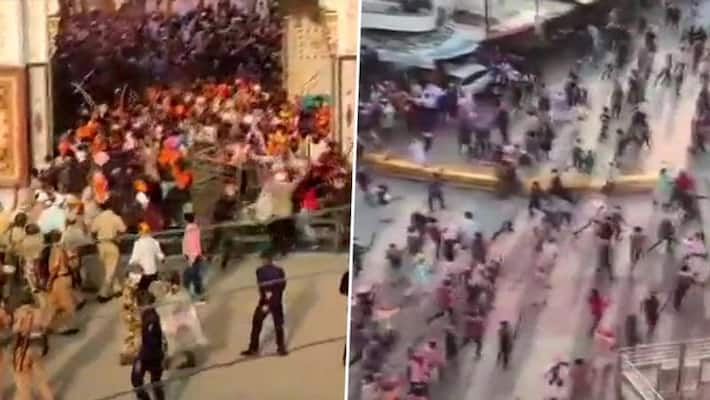 Mumbai: A mob of sword-carrying Sikh protesters broke through barricades at a Gurdwara in Maharashtra's Nanded last evening and attacked policemen, leaving four injured, after the police refused to allow a religious procession because of the Covid surge in the state.
A case has been registered over the violence and the violation of the state's Covid safety rules, the police said. 17 people who were part of the huge mob were arrested.
Four policemen were injured after being attacked during vandalism and one of them - a constable - is said to be in a serious condition.
A video of the incident which went viral showed the sword-wielding mob barging out of the gurdwara, breaking the barricades put up by police and attacking the policemen. Several vehicles were also damaged in the violence.
"Permission for the Hola Mohalla public procession was not granted due to the pandemic. The gurdwara committee was informed and they had assured us that they would abide by our directives and hold the event inside the gurdwara premises," Nanded Range DIG Nisar Tamboli told news agency PTI.
Superintendent of Police Pramod Kumar Shewale said the gurdwara had been informed that the "Hola Mohalla" procession would not be allowed because of virus restrictions.
"We had spoken to the gurdwara authorities and the priests and explained the situation to them. So they agreed that this year, no procession will be held and a low-key celebration will be held within the complex," Shewale said.
The low-key event was to begin at 4 pm. "But some of the youngsters got impatient. When Baba-ji explained the situation to them, they moved to the Gate number 1 and started moving on the traditional route of the procession," he added.
Sikhs celebrate Hola Mohalla around the time of Holi every year and display their martial skills during the festival.
Last Updated Mar 30, 2021, 11:46 AM IST