Modi, Draghi meet on G20 sidelines; commit to fight climate change
India and Italy have reviewed the progress in their bilateral relations and further agreed to strengthen cooperation in the strategic sectors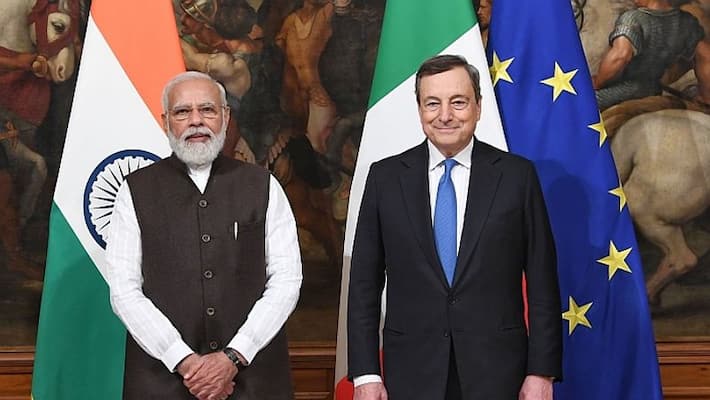 India and Italy have reviewed the progress in their bilateral relations and further agreed to strengthen cooperation in the strategic sectors, including the clean energy transition to fight climate change and New Delhi's initiative of the International Solar Alliance.
Prime Minister Narendra Modi and his Italian counterpart Mario Draghi met on the sidelines of the G-20 leaders' summit in Rome and acknowledged the progress made since November 6 last year when the action plan for an enhanced partnership between India and Italy (2020 –2024) was adopted.
Also Read: Prime Minister Modi meets Pope Francis in Vatican library
During their meeting, Prime Minister Modi and Draghi recalled the May 8 India-European Union leaders' meeting held in Porto where both sides have stressed the urgency to address the challenges posed by climate change, pollution and biodiversity loss.
The two leaders vowed to deepen cooperation for accelerating the deployment of renewable energy, including exploiting the potential of green hydrogen, promoting energy efficiency, modernizing the electricity market, developing smart grids and storage technologies and deploying innovative renewable technologies such as offshore wind energy.
Stressing upon the need for cost-effective integration of a growing amount of renewable energy into each nation's power systems, Prime Minister Modi and Draghi said this was essential for an effective clean transition that would facilitate GDP growth, reinforce universal energy access, generate employment and eradicate energy poverty. 
Both leaders acknowledged India's resolve to deploy 450 GW of renewable energy by 2030 as well as Italy's prompt ratification and active support to the International Solar Alliance. Prime Minister Modi and Draghi agreed to launch a bilateral strategic partnership in the energy transition.
Prime Minister Modi also interacted with other world leaders, including French President Emmanuel Macron, on the sidelines of the G20 summit. Earlier, the Prime Minister took part in a working luncheon with other world leaders during a session on 'Global Economy and Global Health at the Roma Convention Centre in Rome, Italy.
Also Read: Bank Holidays in November 2021: Banks to be shut for 17 days this month; Details inside
Last Updated Oct 30, 2021, 5:13 PM IST